Curry Chicken Pot Pie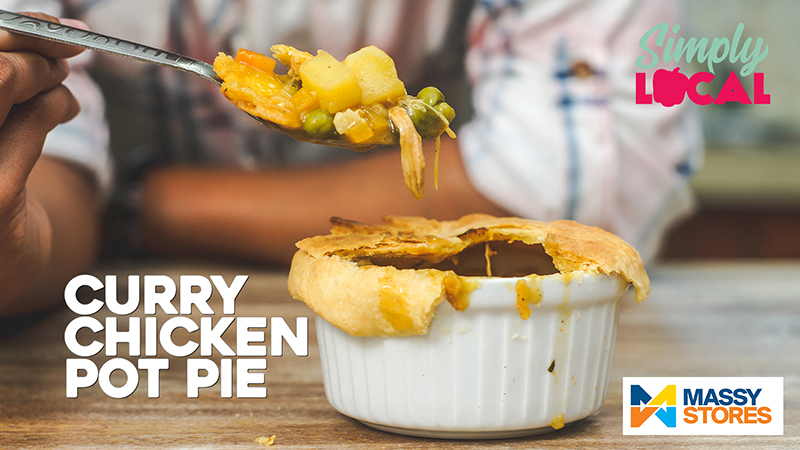 Ingredients
Pastry:
2 1/3 cup flour
1 cup butter
1 tsp salt
1 tsp sugar (optional)
Curry Chicken Filling:
2 tbsp oil
2 tsp curry
1 cup diced onions
1/3 cup butter
1/3 cup flour
2 ½ cups stock (preferably chicken)
1 cup frozen peas
1 cup diced carrot
½ cup celery
2 medium potatoes diced
2 cups shredded chicken
Chicken Stock:
Bones from 1 chicken
1 cup carrots
1 cup onions
2-3 springs of thyme
Method
Make the stock first (since it takes the longest). Saute onions, carrots and thyme until onions are clear.
Add in bones and 2 quarts of water, bring to a boil and lower heat to a very lower simmer.
Continue to cook for minimum 2 hours
Make pastry second (can be set aside or made well before time) rub butter into flour, salt, sugar mixture until it reaches a moist sand consistency.
Add in ice-cold water a very little at a time until the dough is combined, use as little water as possible and do not kneed.
When stock is finished and dough the filling can be made. Start with a little oil and the curry, let it "burn" or change colour and colour the oil before adding in onions.
When onions are clear add in the butter until melted and then add in flour. Stir vigorously for two minutes or until flour is cooked.
Add in stock ½ cup at a time continuously stirring the mixture as to keep it smooth and avoid forming lumps.
When a thick but creamy base is formed add in the vegetables (peas, carrots, celery, potatoes; you can feel free to add different ones if you like!), cook until potatoes are tender (approx. 10 minutes)
Chicken should be added last since it is already cooked. Add in and take the mixture off the heat.
Fill ramekins or oven safe dishes with the filling.
Roll out dough to a ¼ inch thickness and cut out pieces large enough to cover the top and ¼ inch of the side of each container.
Place dough on the container and secure it to the sides, make a small 'x' incision to the top to let the steam escape.
Bake in a preheated oven on 400F or 205C for 10-15 minutes or until golden brown.
Cool for a few minutes and serve!
For full instructional video, please visit https://youtu.be/Brijw_0b0A8