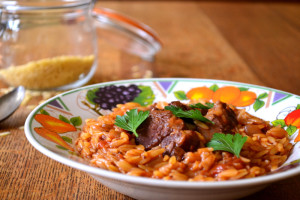 Ingredients
1kg shoulder of lamb
2 onions, sliced
1 tbsp chopped oregano, or 1 tsp dried
½ tsp ground cinnamon
2 cinnamon sticks, broken in half
2 tbsp olive oil
400g can chopped tomatoes
1.2l hot chicken or vegetable stock
400g orzo (see know-how below)
freshly grated parmesan, to serve
Method
Heat oven to 180C/fan 160C/gas 4.
Cut the lamb into 4cm chunks, then spread over the base of a large, wide casserole dish. Add the onions, oregano, cinnamon sticks, ground cinnamon and olive oil, then stir well.
Bake, uncovered, for 45 mins, stirring halfway.
Pour over the chopped tomatoes and stock, cover tightly, then return to the oven for 1½ hrs, until the lamb is very tender.
Remove the cinnamon sticks, then stir in the orzo. Cover again, then cook for a further 20 mins, stirring halfway through. The orzo should be cooked and the sauce thickened. Sprinkle with grated Parmesan and serve with crusty bread.
Recipe from Good Food magazine, April 2008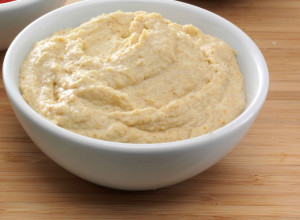 Ingredients 
2 cans Cuisine Channa 
4 tbsp tahini (see recipe below) or sesame seed oil
juice of 1 lemon
1- 2 cloves garlic, crushed
Salt to taste
Hummus Directions
Keep some chickpeas on the side for garnish. Place the rest of the ingredients in a food processor and process till combined. Place hummus in serving platter and top with whole chickpeas. Drizzle with olive oil.
You can garnish with paprika, cumin or chopped parsley.
Meat Recipe
200g Meat (lamb or beef) cut finely (almost like a mince).
2 tbsp vegetable oil for frying
a pinch of cinnamon
a pinch of allspice
Salt & Black pepper to taste
1/4 cup toasted pine nuts
Prepare hummus as in recipe above. Place prepared hummus in serving platter. Flatten the top of the hummus creating a wedge on the sides.
Fry the meat in vegetable oil till cooked through. Add the fried meat and its oil to the hummus. Garnish with whole chickpeas and toasted pine nuts. These can be served as appetizers, breakfast and are also great with BBQs and grills. Enjoy with warm toasted Cuisine Pita Bread – white @ $7.49 or Cuisine Pita Bread – wheat @ $9.29
Home-made Tahini 
Makes about 2 cups
2 cups white sesame seeds
1/4 cup olive oil
Heat a heavy wide-bottomed sauté pan over medium-high heat. Add the sesame seeds and toast lightly – about 2 minutes, shaking the pan so they toast evenly. Let cool completely.
Put in a food processor and drizzle in the olive oil. Pulse for 3-5 minutes, or until it's as smooth as you can get it. Add a little more olive oil if necessary.
Once refrigerated and stored properly, the tahini can last 3 to 6 months.
Ingredients
1 tbsp olive oil
1 onion, chopped
2 carrots, chopped
3 large celery sticks, chopped
2 garlic cloves, finely chopped
2 tbsp tomato purée
1 x 400g/14oz tin chopped tomatoes
1.2 litres/2 pints vegetable or chicken stock
400g/14oz tin cannellini beans, drained and rinsed
100g/3½ dried spaghetti, broken into short lengths
¼ head green cabbage, finely shredded
salt and pepper
Preparation method
Heat the olive oil in a large lidded saucepan over a medium heat. Add the onion, carrots and celery, season with a little salt and pepper and cook for about 10 minutes, stirring occasionally until the vegetables have softened.
Add the garlic and fry for another minute. Stir in the tomato purée and cook for a further three minutes.
Tip in the tomatoes and stock. Cover with a lid and bring slowly to the boil. Reduce the heat to a simmer and cook for 15 minutes.
Add the beans and pasta and cook for a further 10 minutes, or until the pasta is cooked. Add the cabbage and cook for another two minutes. If the soup is too thick, add some hot water to reach your preferred consistency.
Season to taste with salt and pepper before serving.