Vegan One Pot Pasta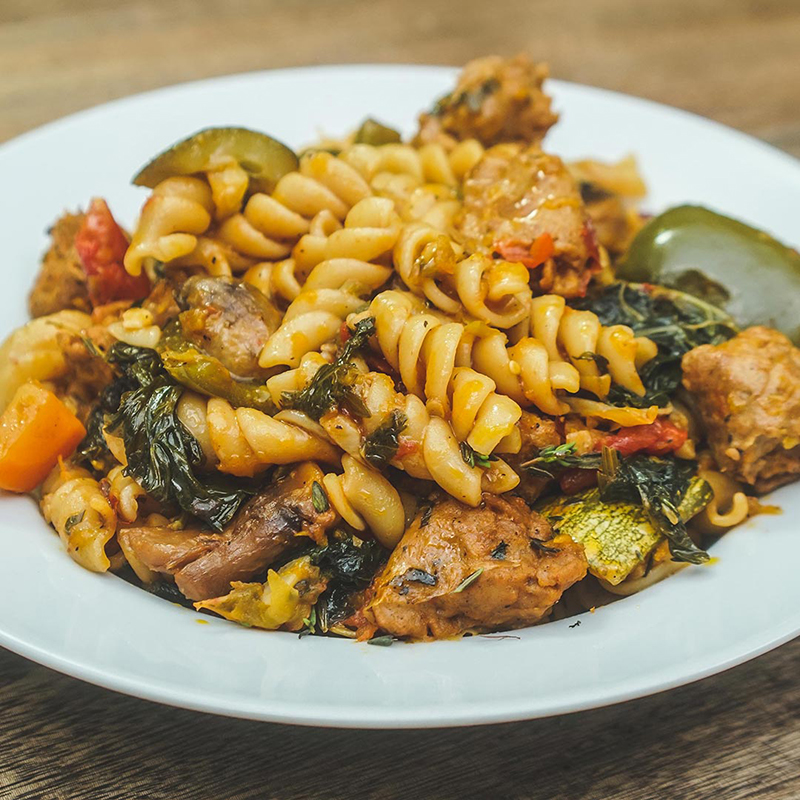 INGREDIENTS:
pack of pasta (vegan)
3 – 4 Beyond Meat Sausage links (roughly chopped / remove casing) – OPTIONAL
1 large red onion (chopped)
1 large zucchini (cubed)
4 tomatoes (diced)
2 cups of kale (roughly chopped)
1 cup pumpkin (grated)
1 cup of carrots (chopped)
1 ½ cups of mushrooms (chopped)
1 sweet pepper (chopped)
4 cloves of garlic (minced)
3 pimentos (chopped)
½ cup of finely chopped celery
1 tbsp roucou
1 tbsp of tomato paste
3 sprigs of fresh thyme
4 tbsp olive oil
1 cup hot water
salt & black pepper (to taste)
METHOD:
Add olive oil and add chopped "sausages". It will be mushy at first but will firm up when it makes contact with the hot oil. Any casing that comes off can be discarded. Let sauté until brown for about 2-3 minutes.
Next add aromatics – garlic, pimentos, celery and fresh thyme and sauté for 2 mins then add grated pumpkin. Once mixed you can proceed to add ALL the remaining vegetables.
Season with salt and pepper and add roucou and tomato paste. Mix well and cover for 3 mins.
When the kale has wilted, add in the pasta and ensure it's incorporated fully into the veggies. Cover tightly for 4 minutes on low heat. The steam here is what will cook the pasta and will also infuse it with all the flavours of the veggies.
At this point, a slightly thick and glossy sauce would have developed and the pumpkin would have melted. You can now add water – just enough to cover up to half of the pan. Again, the steam here is what will finish cook the pasta as the veggies would have more or less be cooked at this point.
After adding the water, add salt and pepper as needed and cook on medium heat for an additional 6-8 minutes. The type of pasta used would affect the cooking time but we want the pasta to still have a bite to it.
Remove from heat and drizzle with a healthy serving of olive oil and finish off with chili flakes.
Serve and enjoy!
For full instructional video, please visit https://youtu.be/RA2gphY_p-g