Sweet And Spicy Baby Back Ribs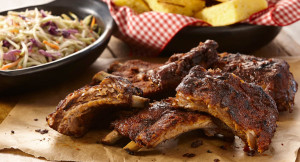 Time take to prepare: 1 hr 50 minutes
Serves: 4-6
Ingredients
3 1lb racks baby back pork ribs
Juice of 1 lemon
Kosher salt and freshly ground pepper
1/2 cup lager-style beer
4 tablespoons unsalted butter
8 cloves garlic, thinly sliced
1 tablespoon chipotle chili powder
1 cup Thai sweet chili sauce
2 tablespoons packed light brown sugar
1/3 cup rice vinegar (not seasoned)
Directions
Preheat the oven to 325 degrees F.
Put the ribs meat-side down on a cutting board.
Insert a paring knife between the membrane and the bones on one end of each rack, then loosen the membrane and pull it off.
Rub the ribs with the lemon juice and sprinkle evenly with 1 teaspoon salt and 1/2 teaspoon pepper.
Place the ribs bone-side down in a large roasting pan, then add the beer. Cover tightly with foil, transfer to the oven and roast until the meat pulls away from the bone, about 1 hour.
Meanwhile, make the sauce: Melt the butter in a medium saucepan over medium-high heat; add the garlic and cook, stirring occasionally, until slightly golden, about 2 minutes.
Add the chili powder and cook 1 minute. Stir in the chili sauce, brown sugar, vinegar and 1 cup water and bring to a boil. Reduce the heat to low and simmer, stirring occasionally, until the sauce is thickened and reduced by half, about 40 minutes.
Remove the ribs from the oven; increase the temperature to 400 degrees F. Uncover the pan; carefully pour out the cooking liquid.
Stir 1/4 cup cooking liquid into the sauce, and then discard the rest of the liquid. Generously brush the ribs with the sauce. Return the pan to the oven and continue roasting, uncovered, until the ribs are golden brown and tender, about 35 minutes.
Transfer the ribs to a cutting board and slice, then return to the roasting pan. Pour the remaining sauce on top and toss.