Salt Fish Fritters (Accra)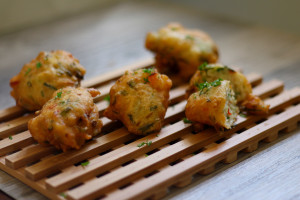 INGREDIENTS:
6 ounces dried salted fish
1 cup all-purpose flour
1/2 cup water
1 large tomato, chopped
1 teaspoon baking powder
2 teaspoons ground black pepper
2 green onions, chopped
1/2 cup vegetable oil for frying
DIRECTIONS:
Break the salt fish into pieces and place in a saucepan. Fill with enough water to cover. Bring to a boil and cook for 5 minutes.
Drain and rinse under cool water. If you want it less salty, repeat the boiling process a few more times. Remove any bones and skin, if there are any. Shred the fish into small pieces and set aside in a medium bowl.
Add the tomato, and green onion to the fish.
Combine the flour, baking powder and pepper; stir into the salt fish. Pour in the water and stir just until everything is blended.
Heat 1/4 inch of oil in a large heavy skillet over medium heat. When the oil is hot, drop rounded spoonfuls of batter into the skillet. Fry on each side until golden brown and crisp, about 5 minutes per side. Drain on paper towels and serve hot.