Pork Tacos with Black Beans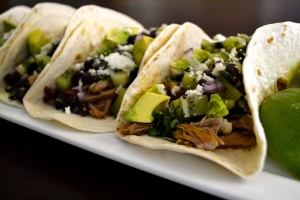 Time taken to prepare: 20-25 minutes
Serves: 4-6 people
Ingredients:
2 1/2 tablespoons vegetable oil
2 cloves garlic, minced
1 15 -ounce can black beans (do not drain)
1/2 cup shredded mozzarella cheese (about 2 ounces)
1 pound ground pork
1 small red onion, finely chopped
1/2 teaspoon cayenne pepper
1 bell pepper, cut into 1/2-inch pieces
Freshly ground black pepper
12 corn tortillas, warmed
Salt and pepper to taste
Directions:
Heat 1/2 tablespoon vegetable oil in a small saucepan over medium heat. Add half of the garlic and cook, stirring, until golden, about 1 minute.
Add the beans and bring to a simmer. Remove from the heat, sprinkle with the cheese and cover to keep warm.
Heat 1 tablespoon vegetable oil in a skillet over medium-high heat. Add the pork, the remaining garlic, half of the red onion, the cayenne and 1/2 teaspoon salt. Cook, stirring, until the pork is browned, about 5 minutes; transfer to a bowl with a slotted spoon.
Heat the remaining 1 tablespoon vegetable oil in the skillet. Add the bell pepper and 1/4 teaspoon salt and cook until crisp-tender, about 3 minutes.
Return the pork to the skillet; add a splash of water, and salt and pepper to taste.
Fill the tortillas with the pork and vegetable mixture. Serve with the beans. Sprinkle with the remaining chopped onion.