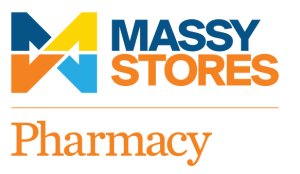 Located at our Alyce Glen, Brentwood, Gulf View, Mandalay, Marabella, Moka, St. Anns, St. Augustine, Trincity, and Westmoorings branches, Massy Stores Pharmacy provides a range of first-class healthcare services ranging from on-site testing to over-the-counter drugs and filling of prescriptions. Our courteous, professional staff are ever ready to assist with anything you need or any questions you might have.
There are many reasons to come in to Massy Stores Pharmacy…
Convenient Shopping- fill your Rx while you shop
Competitive Pricing
Pay for your prescriptions and other pharmacy items with your Massy Points
Personalised and Professional PRESCRIPTION Services
Private Pharmaceutical Counselling
OTC (Over The Counter) Drugs
Filling CDAP Prescriptions
Free Blood Pressure Testing
Blood Glucose & Cholesterol Testing
GAIN POINTS with the use of your Loyalty Card
DOUBLE POINTS WEDNESDAYS
"Current" TTARP MEMBERS MASSY EMPLOYEES enjoy a 3% DISCOUNT when they present their Loyalty Card
Massy Stores Gift Cards and VOUCHERS can be redeemed at our pharmacies
Massy Stores pharmacy participates in the Celebrate Life Program. Visit us to find out how you can save on your prescription medications.
We fill prescriptions covered by TBSL/TATIL, Sagicor, Guardian Life, Cardea Med Access, PALIGMED
Whatever the reason, the bottom line is, "Your Health is Your Wealth" – it doesn't get more personal than that, so please feel free drop in sometime!
---
Locations:
Alyce Glen – (868) 609-2051
Brentwood – (868) 609-2030
Couva – (868) 609-2331
Moka – (868) 609-2301
St. Anns – (868) 621-CARE (2273)
Westmoorings – (868) 633-CARE (2273)
St. Augustine – (868) 662-2273
Gulf View – (868) 653-8495
Marabella – (868) 658-2273
Trincity – (868) 609-2021
Mandalay – (868) 609-2250
You asked and we listened: WhatsApp Prescription Service Now Available!
WhatsApp you prescription to 467-1167 and either collect in store, curbside or have your orders delivered via Travee Shop.
Simply:
Send a picture of your Prescription.
Bring your original Prescription to collect (requirement).
For insurance Prescriptions, send a picture of your insurance card (front & back) and a picture of your I.D. card.
Points to note:
Suspensions will be re-constituted at time of collection
Compounding prescriptions are not included in this service
You can even Pay for your prescription with your Massy points!
Don't forget, Earn Double Points on Wednesdays
TTAPR members receive a 3% discount everyday
At Massy Stores, we certainly believe in the age-old saying, "Health is Wealth"!
That's why our Pharmacy is constantly looking for opportunities to help promote, maintain and improve great mental and physical health.
First on the agenda…"Wellness Wednesdays!" On the first Wednesday of every month, we take a simple step towards the ultimate goal of making everyone aware and conscious about their health – you're invited to visit any Massy Pharmacy and you will be provided with free blood glucose testing! This is administered between the hours of 10:00 a.m. and 12 noon. And, we provide Free Blood Pressure testing everyday!
Also, please remember that you can drop into any of our pharmacies to find out more about our in-store health and wellness products.