Spinach and Mushroom Lasagna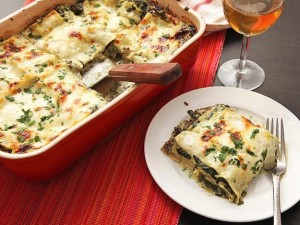 Ingredients
One box Swiss lasagna noodles, cooked according to package
10 oz chopped frozen spinach, thawed and squeezed dry
1 3/4 cup ricotta cheese
1 large egg
1/2 tsp garlic powder
salt and pepper
1 tablespoon olive oil
1 tablespoon butter
2 cups diced onion
dash of crushed red pepper flakes
8 ounces fresh mushrooms, coarsely chopped (alternatively you can use canned mushrooms)
3 cloves garlic, minced
2 tablespoon all-purpose flour
1 1/2 cups whole milk
1 1/2 cups Half & Half
2 cups mozzarella cheese, shredded
1/4 cup grated Parmesan cheese
2 tablespoons fresh parsley, chopped
Directions
Heat oven to 350, grease 9×11 casserole dish
Mix spinach, ricotta cheese, egg, garlic powder and season with salt & pepper – set aside
In large saucepan, over medium-high heat, add olive oil and butter. Sauté onion & crushed red pepper flakes. When onions have softened add mushrooms and garlic – sauté until mushrooms have released their moisture and most of it has cooked off. About 5-7 minutes.
Sprinkle flour over veggies and stir in well. Let cook for a couple of minutes and then add milk and half & half, bring to boil – stirring occasionally to avoid burning. Reduce heat and simmer for about 5 minutes or until sauce has thickened – making sure to stir. Remove from heat.
Construct lasagna in the following order:
3 lasagna noodles
1/3 ricotta mixture
1/3 mushroom sauce
1 cup of mozzarella cheese
Repeat 2 times for a total of 3 layers. This lasagna does not end with a layer of noodles and cheese; your final layer will be just as the others. Sprinkle parmesan cheese and parsley on top
Cover tightly with aluminum foil, bake for 25 minutes. Remove foil and bake for an additional 25-30 minutes or until top is bubbly and golden. Let cool for 15 minutes
Enjoy!