Rum & Raisin Bread Pudding w/Salted Caramel, Tonka Bean, Rum Sauce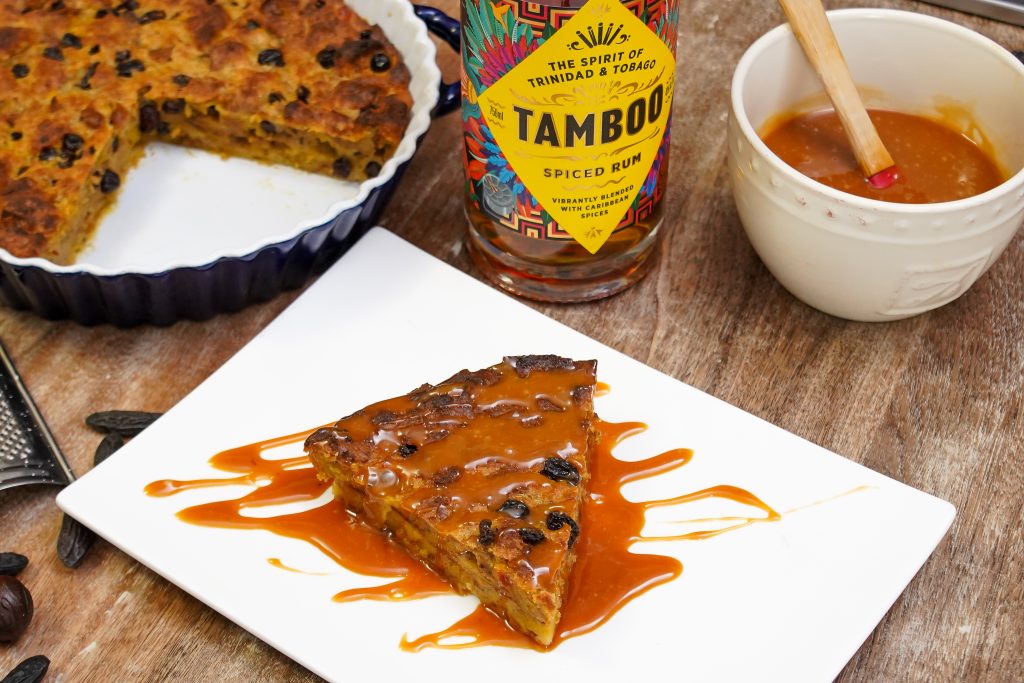 Ingredients
2 1/2 cups milk
2 eggs
2-3 cups stale bread cut into 1-inch cubes (buttered)
1/3 cup brown sugar
1/2 teaspoon cinnamon
1/8 teaspoon ground clove
1/4 teaspoon  grated nutmeg
1/4 teaspoon grated tonka bean
1 teaspoon almond essence
1/2 teaspoon sea salt
1/2 cup seedless raisins pre-soaked in Tamboo Spiced Rum*
Method
Combine milk and eggs, stir in spices, essence and salt.
Pour over breadcrumbs.
Grease glass or ceramic baking dish with butter, pour in mixture.
Place in shallow pan on oven rack; pour hot water until it comes up to 1 inch around dish.
Bake at 350°F, 180°C or Mark 4 for about 45 mins or until knife inserted near center comes out clean.
*soak raisins 2 or more days before, in just enough rum to cover them.
Salted Caramel
Ingredients
1 cup (200g) granulated sugar
6 Tablespoons (90g) salted butter, room temperature cut up into 6 pieces
1/2 cup (120ml) heavy cream, at room temperature
1 teaspoon salt
1/4 teaspoon grated tonka bean
2 tablespoons Tamboo Spiced Rum
Method
Heat granulated sugar in a medium heavy-duty saucepan over medium heat, stirring constantly with a high heat resistant rubber spatula or wooden spoon. Sugar will form clumps and eventually melt into a thick brown, amber-colored liquid as you continue to stir. Be careful not to burn it.
Once sugar is completely melted, immediately stir in the butter until melted and combined. Be careful in this step because the caramel will bubble rapidly when the butter is added. If you notice the butter separating or if the sugar clumps up, remove from heat and vigorously whisk to combine it again. (If you're nervous for splatter, wear kitchen gloves. Keep whisking until it comes back together, even if it takes 3-4 minutes. It will eventually– just keep whisking. Return to heat when it's combined again.)
After the butter has melted and combined with the caramelized sugar, cook for 1 minute without stirring.
Very slowly stir in 1/2 cup of heavy cream. Since the heavy cream is colder than the hot caramel, the mixture will rapidly bubble when added. After all the heavy cream has been added, stop stirring and allow to boil for 1 minute. It will rise in the pan as it boils.
Remove from heat and stir in the salt, grated tonka bean and 2 tablespoons of Tamboo Spiced Rum. Allow to slightly cool down before using. Caramel thickens as it cools.
Cover tightly and store for up to 1 month in the refrigerator. Caramel solidifies in the refrigerator. Reheat in the microwave or on the stove to desired consistency.