Pepper Roti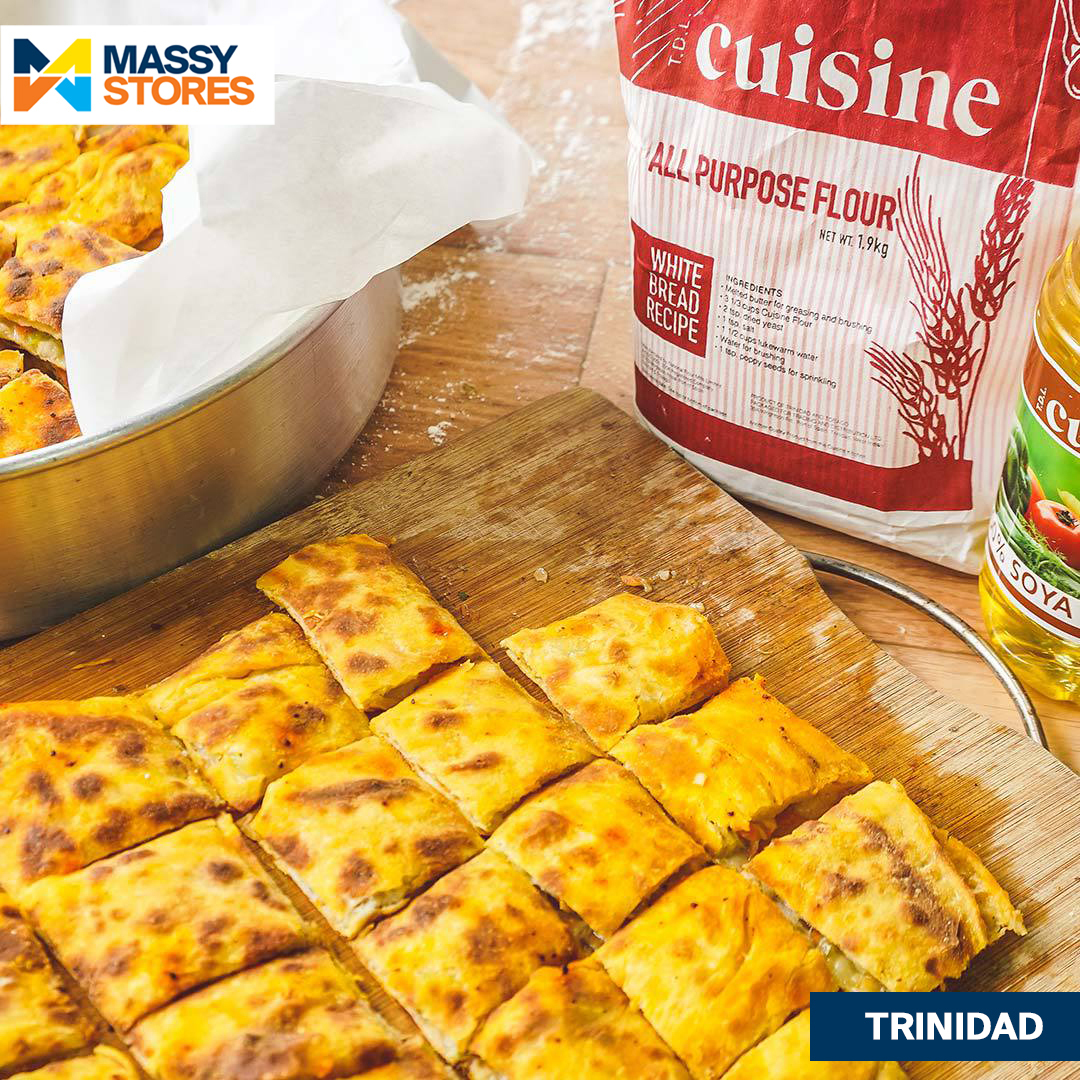 Ingredients
Roti
1lb flour
1 tbsp baking powder
2 tbsp powdered milk
1 pinch salt
1 pinch brown sugar
6 tsp butter
Extra flour for dusting
Filling
2 cups grated carrots
2 cups grated potatoes
3 medium onions, grated
2 medium sweet peppers grated
4 pimentos (chopped)
4 cloves of garlic chopped
Pepper to taste (ground or chopped fine)
3 tbsp green seasoning
1 tbsp roucou (annatto powder)
6 tbsp butter
Salt to taste
Method
Make the dough for the roti first since it has to rest a while before use. It can be made the night before as well. Knead flour with baking powder, salt, sugar, powdered milk and set aside for 5 minutes.
Divide into 6 equal parts and roll each one onto a circle and cover with 1 tsp of butter. Sprinkle some flour on top and cut a line half way into the circle, roll the dough tightly to make a cone like shape. Tuck the end of the dough into the larger side of the cone and push down the top of the cone to make a dough ball. Repeat for each piece of dough and set aside for minimum of 3 hours.
Grate all the vegetables (potato, carrots, onions, and sweet pepper), mix together and add in pepper, pimento, sweet pepper, garlic, green seasoning. Do not salt yet.
Roll out two of the parathas, put butter to the centre of one, salt 2 cups of the mixture and spread evenly onto the middle of the first paratha.
Sprinkle some cheese on top of the mixture and cover with the second rolled out paratha. Close the ends with a fork.
Mix butter and roucou together to make "golden ray"
Fold the prepared pepper roti into three and transfer onto a hot tawa. Turn after 5-7 minutes and brush the cooked side with the butter mixture. Cook the other side, turn and coat in butter again. When finished take off of the heat, cut into strips and serve warm.
Check out the full video here https://www.youtube.com/watch?v=LXk1vFWcd3E