Homemade Butter Cookies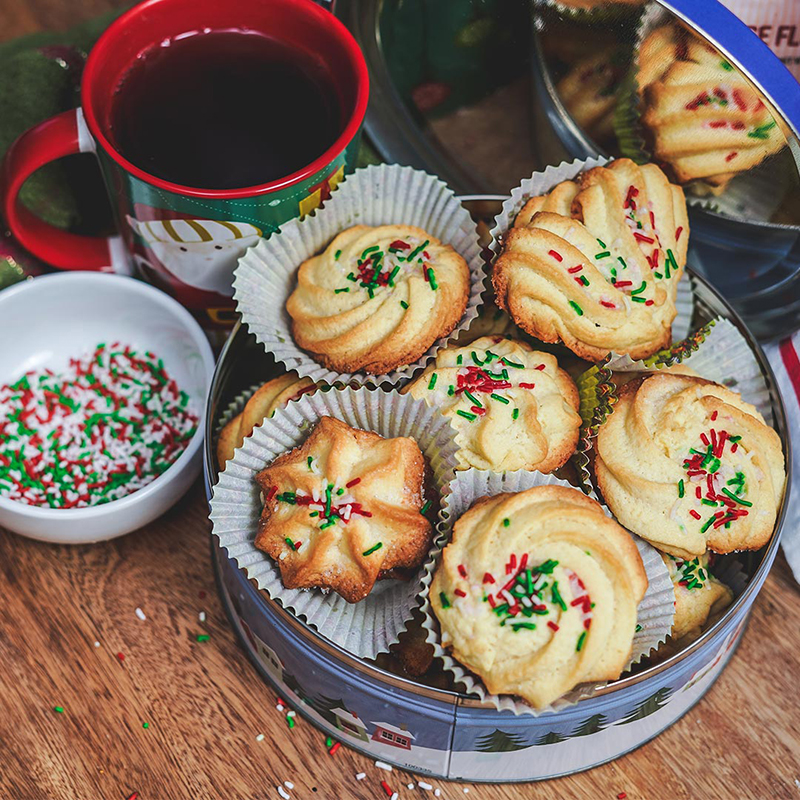 Homemade Butter Cookies Ingredients:
8oz softened butter (salted or unsalted)
¾ cup granulated  sugar
1 egg
1 tsp vanilla essence
2 ¼ cup Cuisine All Purpose Flour
1 tsp salt ( if salted butter was used, please omit)
2 tbsp Cuisine Full Cream Milk
Sprinkles and extra granulated sugar for decorating
Tools:
Large piping bag fitted with a medium size decorative tip.
Method:
Using a hand mixer or stand mixer, beat the butter and sugar together on high speed until light and fluffy.
Add the egg and vanilla essence. Mix just until combined.
Add the flour and mix on low speed just until combined. Stir in the milk.
Preheat the oven to 350F.
Prepare a baking sheet with either parchment, wax paper or a non-stick baking mat.
Load the dough into the piping bag and pipe the cookies onto the baking sheet. Be sure to leave at least ½ inch space between each cookie.
Decorate the cookies with sprinkles and sugar.
Place the cookies into the freezer for 10 minutes then bake in the preheated oven for 6 to 8 minutes, or until golden brown.
Cool and enjoy!