At Massy Stores we are committed to preserving the environment! From using ozone friendly gas in our ac units, to encouraging the use of reusable shopping bags, we do our best to create positive change…. a Force for Good.
Now we're bringing in the heavy machinery – Another step in our 'Get To Green' journey.
We are proud to partner with Kansmacker Ltd and be the first to introduce reverse vending machines at our pilot stores: Westmoorings, Alyce Glen and Maraval. These machines take your used cans and plastic bottles. They are crushed and automatically prepared for recycling. You then get a receipt from the machine which is redeemable for Massy Points!
We are making it easier and more rewarding for you to play your part. Massy Stores and Kansmacker welcome you to join the fight against pollution. Together we can do better!
To our valued customers,
We would like to take a moment to recognise the vibrant and informative ongoing dialogue that is happening online and throughout the nation with regards to our latest "Get to Green" initiative.
We aspire to International best practice and standards at all times. The implementation of a fee for plastic bags in groceries has produced fantastic results globally. A major example is in England, over a 9 month period after a similar fee system for bags was established, bag usage decreased by an astounding 93%.
In our case, customers forgetting to bring their reusable bags will be charged 50c for a stronger plastic bag which in itself can be reused. The proceeds from this will be used to fund environmental charities.
This initiative is just one of many measures we intend to implement for the purpose of creating a more sustainable country and region, as the initiative has also been put into effect at Massy Stores in Barbados, St Lucia, St Vincent, and Guyana. We are also assessing other areas where we can do more to reduce the amount of plastic we use in our stores and obtain from our suppliers.
#LetsAllDoOurPart towards the use of reusable bags, be it with the new reusable bags that we will have on offer or your own reusable bags. With this in place, we hope that people consider moving away from plastic bags and any further excessive generation of waste.
To kick things off we have already given away 10,000 of our new reusable bags and we are excited about our soon to be announced FREE bag and Massy Points promotions.
We encourage you to stay in touch with us via our website and social media channels for more on this initiative and more positively impactful work we are doing in and around our communities everyday.
We thank you for your continued support as we move along the path to a better future.
Kind Regards,
Management & Staff
Massy Stores
Massy Stores has already started the Hurricane Relief Fund by donating $25,000 in groceries, to aid. Donate your Massy Points through our website www.massycard.com , by emailing info.tt@massycard.com, or at cashiers in store. Make sure to collect your receipt! #hurricanerelief #donate #massypoints #massystoreshurricanerelief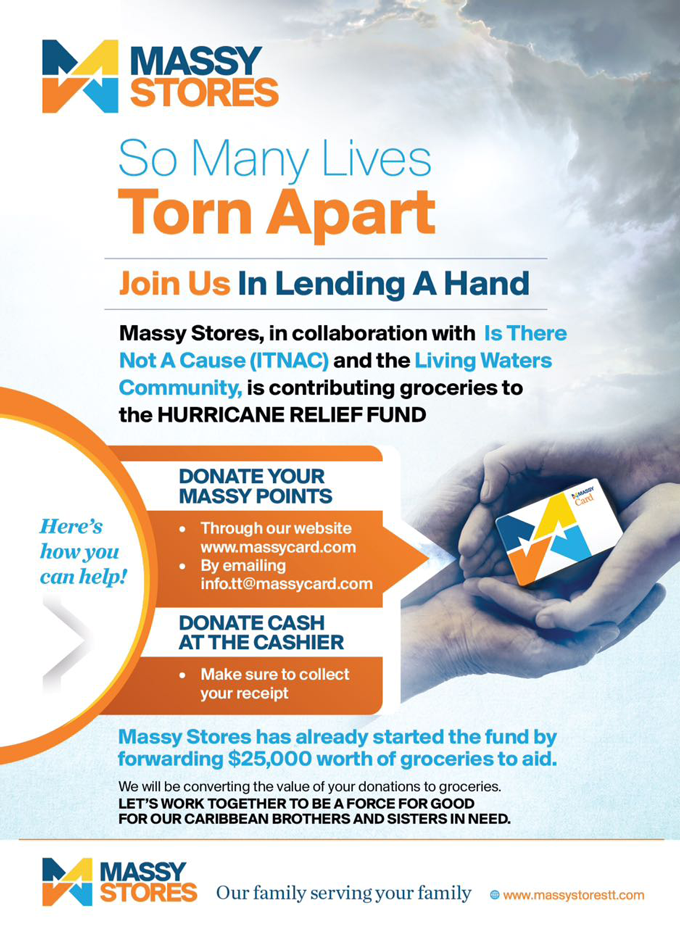 Cooking at home is possible—even for the time-crunched and cash-strapped. It just takes a little creativity!
Getting into a new routine of prepping all your meals ahead can take some time to getting used to. Starting with a few days' worth of meals at a time, then slowly building up to making a whole week of meals in one session.
Here are our meal prep menu ideas for the week: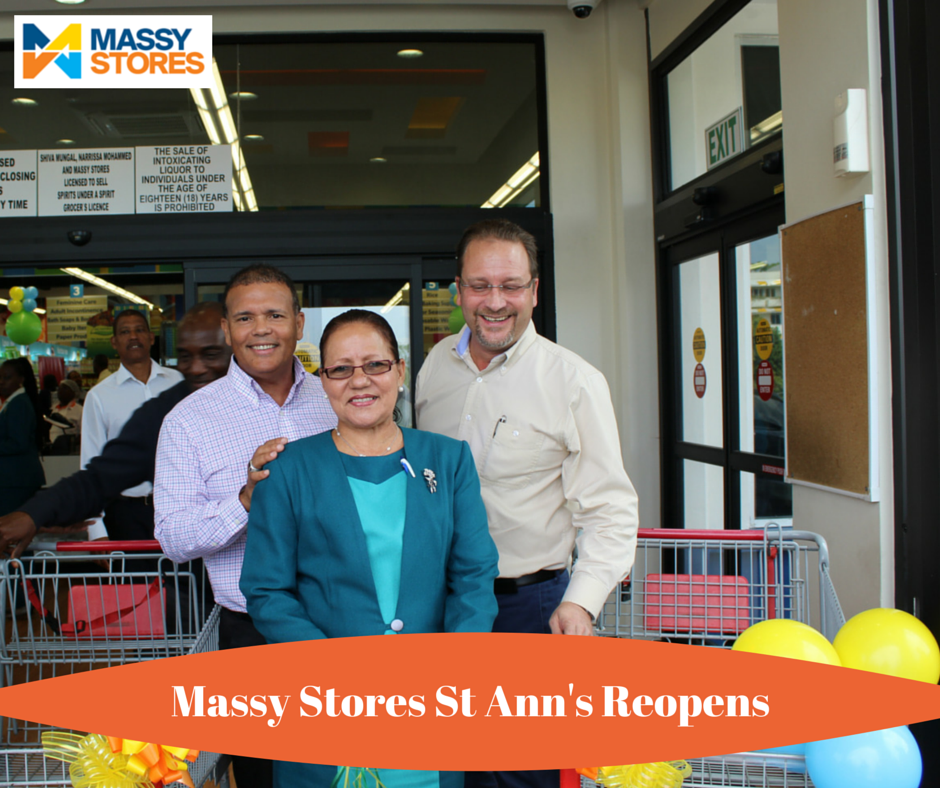 Less than three months after refurbishment began, Massy Stores has relaunched its supermarket in St Ann's, now offering customers more options in a comfortable and contemporary environment.
The store reopened last Wednesday with a launch ceremony attended by Massy Stores CEO Derek Winford. The revamp of the supermarket was performed to maintain a high level of service for the St Ann's, Cascade and surrounding communities.
The secret to making soft Indian style roti is threefold. Your ingredient ratios, your rolling method and your cooking technique. Get that right, and you'll have perfect roti every time.
To begin, you should always use boiling hot water, or water taken from the kettle as soon as it boiled. Apart from this major 'secret ingredient', you must ensure that the first side is half cooked-before flipping it over.  Perfect soft roti should rise when cooked and reveal multiple layers that can be peeled.
Here's what you'll need to make yours:
Ingredients:
400g Cuisine flour
1 tablespoon melted Blue Band butter
Half teaspoon salt
2 tablespoons Cuisine vegetable oil
Half cup Cuisine flour for dusting the work surface
250ml hot water
Utensils:
A wooden rolling pin
A thawa or heavy based frying pan.  If you don't own a thawa- a nonstick frying pan works just as well.
Cooking Directions:
Add 350g Cuisine flour into a bowl. Add the oil. Add the hot water. Mix with a tablespoon since the dough will be quite hot with the boiling water.
Take some of the remaining flour and dust the worktop. Remove the dough from your dish then place on the work top.
If it is sticky then add a little flour until it is soft and manageable. Knead the dough until a soft pliable dough is formed. Like most breads the key to soft bread is a dough that is well kneaded!
Once a soft dough is achieved. Cover the dough with a dishcloth or with your mixing bowl turned over it. Let the dough rest for about 5 minutes while you prepare the butter and heat the pan. Leave the pan on low heat while rolling the rotis then turn up to high heat a minute or two prior to cooking the rotis.
Melt the butter then return to the dough. Break off a small piece of about 8cm diameter then roll into a large circle shape. Take the melted butter then spread over the circle shaped dough.
Then roll the dough like a Swiss roll. Roll inward toward you. Once you have formed a snake-like shape then cut into even pieces.
Take one of the cut pieces, stand upright then press down with your hand this will create a circle when flattened. Dust your hands with flour then work this small circle into a round shape then place onto work top and roll into a flat round disc. Make sure the roti is rolled as flat as possible. Thick rotis take longer to cook and are often too heavy to rise resulting in uncooked tasteless roti.
To cook your soft roti simply place on the hot preheated pan (the pan should be hot) .The cooking process for each roti should be 1 minute. Allow the roti to cook for a 5-10 seconds before turning it over. On the second side allow to cook for a little longer, pressing the sides with your fingers to ensure that it cooks. Once the roti rises or you see bubbles form turn the roti. Careful not to burn your fingers as this can be quite hot, use a spatula if you like.
Once you see the dough rise up forming bubbles then turn the dough over allowing the dough to rise once more. Once you have golden brown spots then the roti is cooked. Remove from stove then repeat this process for all remaining roti. Once all are cooked cover with a piece of paper towel or dishcloth, this will keep the moisture in keeping roti soft until you are ready to serve them.
Long-serving members of the Massy Group were honoured last Friday, when the company held a retirement party.
The employees, who were honoured, had served between 30 years and 40 years helping to serve people throughout Trinidad as part of the Neal and Massy Group.
The evening wasn't only about saying farewell, however, as the event saw the return of many familiar faces. In the end, it was a chance for previously retired employees to once more come back into the fold and to catch up with old friends and colleagues, and have a chance to win hampers put together by associates at the Massy Stores.
Peter Jones lives our customer service motto of delighting everyone, every day, every time. Don't believe us, here's what some of you had to say…
Customer #1
My wife and I shopped for a few items at Massy Westmoorings and when we got to the cashier, the wrapper gave my wife a big smile and wished her Happy New Year. He then turned to me and said "Sir, a Happy New Year to you as well". He packed the items beautifully, taking special care to place certain items in a separate bag for us to drop off to my wife's Mum. He brought the items out to the car for us and while in the process of loading the bags into the back of our SUV, he noticed my wife moving towards the passenger door. He stopped what he was doing, came to the side of the car, opened the door for her and then closed it once she was in. When done loading, he again wished us both a Happy New Year.
His name is Peter and this young man gave us the single best customer experience we have ever had at Hilo/Massy in 30+ years of patronage.
-B.S-
Customer #2
Hi! I just had to send Hi-Lo (Massy Stores) a lil' kudos about the lovely customer service I received at Westmall yesterday. I had the pleasure of having Peter bag my groceries and help me with them to my car. I have to say he was courteous, well-spoken and very helpful. Great work, exceptional service!!!
-S.P-
Customer #3
On Sunday my wife and I went to Hi-Lo (Massy Stores) Westmoorings and bought a lot of groceries, so we had a very full trolley. We went to the cashier and the gentleman that packs the groceries immediately greeted us saying hi and then trying to do so in Spanish as well. He saw my wife was very pregnant and then out of nowhere he got her a chair so she could sit down while I passed the groceries through the cashier. Once I had finished doing this and he was still packing he asked me of our shopping experience had been good.
He then asked if we wanted him to help us with the trolley into the car park and he proceeded to unload the groceries into the car. He was extra careful with the bread and the eggs, he suggested we put the eggs separately so they would not get smashed. He then said good bye both in English and then in his new Spanish, and thanked us for shopping at HILO (Massy Stores).
My wife also told me that the last time she had shopped there, he also got her a chair and he passed the groceries through the cashier and then packed them. These are the behaviors that build customer loyalty. He behaved like the person that owns the supermarket! His name is Peter.