The Sugar Apple plant is being used for the plant torch activity. The imagery of the Olympic Torch is being used to pass the Sugar Apple plant from school to school throughout Trinidad and Tobago where it will be nurtured by children. The fire of the Olympic Torch, once lit remains throughout the games, despite the weather. When passing the plant from school to school,we hope that, in a similar manner it will not go out/die as we pass it from school to school.
The plant is being used as a symbol of food security for us in Trinidad and Tobago. The symbolic gesture of passing the plant therefore depicts the sharing of the responsibility of achieving the goal of food security.
The first inaugural Plant torch activity was held in 2016 as a precursor to the actual Run for Food. It started with the exchange of a Penny Piece plant between Trinidad and Tobago on February 17, 2016. The plant nurtured in Trinidad was planted in the Hollows of the Queens Park Savannah on 9th April 2016 at a tree planting ceremony. A similar activity was done in Tobago. Since then:
In 2017, 7 schools participated and the Balata Plant was used as the "Torch"
In 2018, 8 schools participated and the Tamarind Plant was used as the "Torch"
In 2019, 8 schools will participate and the Sugar Apple plant is being used as the "Torch"
Participating schools received a brochure on the plant with instructions on how to take care of it. At the end of the activity students will be awarded a certificate for successful nurturing and participation.
The Schools participating this year are:
Laventille Girls Government
Arima Girls RC
Matelot Community College
Mayaro Secondary
Tableland AC
Penal Quinam Government
Siparia KPA
Palmiste Government
This year for the 1st time we have secondary schools taking part in this activity.
Today (March 15, 2019) Trinidad and Tobago Eco-Divers Club, the only local community to conduct underwater clean up exercises, received a significant contribution of eighty thousand dollar (TT$80,000) from Massy Stores Trinidad.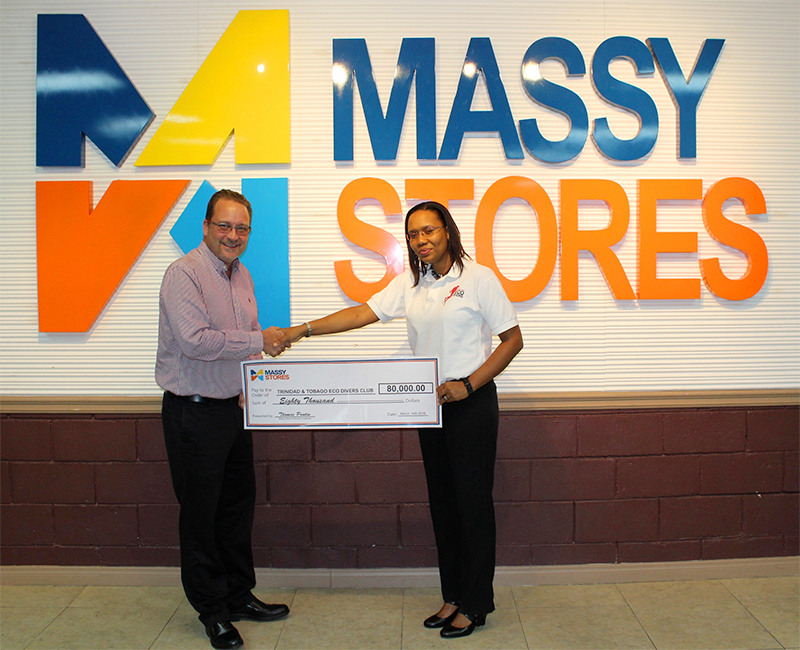 The contribution will be used to acquire airlift bags to remove underwater waste as well as marker buoys and diving equipment to support the club in their clean-up efforts, at the start of the turtle nesting season.
"The turtle population, particularly those who nest along our north west coastlines suffer tremendously as a result of plastic pollution. Hawksbill turtles in particular get disoriented and die in a sea of plastic when they come ashore. Juveniles especially become trapped or injured by plastic and other items. Overall, the marine life in that area of Trinidad and Tobago is under serious threat. At the very least, Massy's donation will help us to remove waste and hopefully safeguard the turtle population in the area," commented Shari Wellington-Griffith, Chairman, Trinidad and Tobago Eco-Divers Club.
"The airlift bags will help us to bring underwater waste, such as plastic waste lodged between rocks, to the surface more efficiently so that we can remove it from the marine environment," she added.
This partnership is the first of many partnerships to come, following Massy Stores' decision in 2018 to reduce the impact of plastic waste by implementing a charge for single-use plastic bags.
Thomas Pantin, Executive Chairman, Massy's Retail Line of Business said "we made a commitment last year to our customers that the proceeds from the sale of plastic bags would be donated to support environmental sustainability. Our philosophy, which will guide how we select groups and projects to support, is to empower communities, such as the community of divers of the T&T Eco Divers Club, in their efforts to remove plastic waste from the environment."
Since the implementation of the charge for plastic bags, Massy Stores Trinidad has experienced a 90% reduction in single-use bags circulated from our stores, nationwide.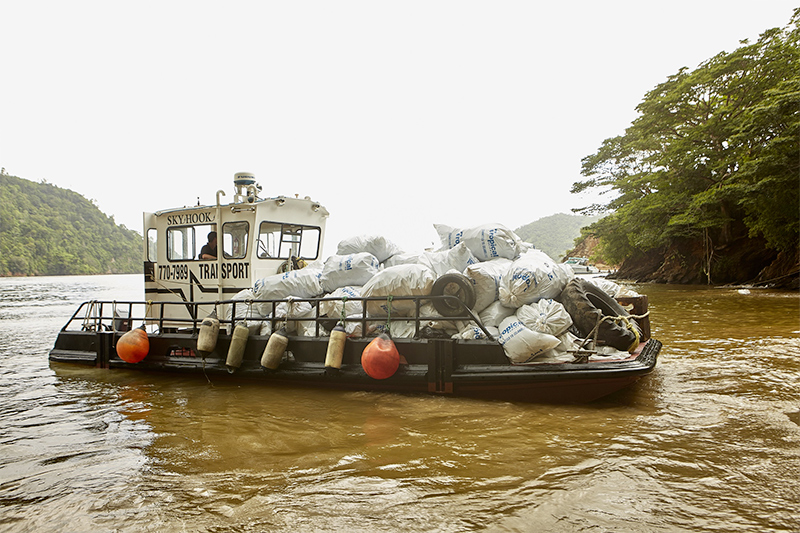 At Massy Stores we are committed to preserving the environment! From using ozone friendly gas in our ac units, to encouraging the use of reusable shopping bags, we do our best to create positive change…. a Force for Good.
Now we're bringing in the heavy machinery – Another step in our 'Get To Green' journey.
We are proud to partner with Kansmacker Ltd and be the first to introduce reverse vending machines at our pilot stores: Westmoorings, Alyce Glen and Maraval. These machines take your used cans and plastic bottles. They are crushed and automatically prepared for recycling. You then get a receipt from the machine which is redeemable for Massy Points!
We are making it easier and more rewarding for you to play your part. Massy Stores and Kansmacker welcome you to join the fight against pollution. Together we can do better!
To our valued customers,
We would like to take a moment to recognise the vibrant and informative ongoing dialogue that is happening online and throughout the nation with regards to our latest "Get to Green" initiative.
We aspire to International best practice and standards at all times. The implementation of a fee for plastic bags in groceries has produced fantastic results globally. A major example is in England, over a 9 month period after a similar fee system for bags was established, bag usage decreased by an astounding 93%.
In our case, customers forgetting to bring their reusable bags will be charged 50c for a stronger plastic bag which in itself can be reused. The proceeds from this will be used to fund environmental charities.
This initiative is just one of many measures we intend to implement for the purpose of creating a more sustainable country and region, as the initiative has also been put into effect at Massy Stores in Barbados, St Lucia, St Vincent, and Guyana. We are also assessing other areas where we can do more to reduce the amount of plastic we use in our stores and obtain from our suppliers.
#LetsAllDoOurPart towards the use of reusable bags, be it with the new reusable bags that we will have on offer or your own reusable bags. With this in place, we hope that people consider moving away from plastic bags and any further excessive generation of waste.
To kick things off we have already given away 10,000 of our new reusable bags and we are excited about our soon to be announced FREE bag and Massy Points promotions.
We encourage you to stay in touch with us via our website and social media channels for more on this initiative and more positively impactful work we are doing in and around our communities everyday.
We thank you for your continued support as we move along the path to a better future.
Kind Regards,
Management & Staff
Massy Stores