Trini Fish Broth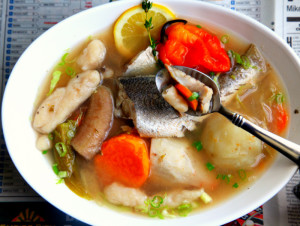 Ingredients:
1 fish (about 1 1/2 lbs. (cut into pieces)
4 cups fish stock
2 cups water
2 potatoes (cut in 8′s)
3 green cooking bananas (peeled and diced)
1 green onion (scallion) (chopped)
5 small okras (chopped)
1 onion (diced)
3 cloves of garlic diced
1 tablespoon oil
1/4 hot pepper (use 2 pimentos if you have, if not use your favourite hot pepper)
1 tablespoon Golden Ray butter
1 lime
Macaroni
1/2 teaspoon salt
1 teaspoon green seasoning
1 tomato
1 carrot
1 stalk celery
3 tablespoon cilantro (chopped)
1 teaspoon Worcestershire sauce
Directions:
Cut the fish into serving size pieces, wash and season using the green seasoning, salt and tomato. Set aside to marinate as you get other ingredients ready.
Chop and dice all the vegetables, including the potato, carrot, onion, garlic, celery, okra, green banana and hot pepper.
In a soup pot, add the oil and heat. Then start by adding the onion, then the garlic and cook for a few minutes.
Add the rest of the vegetables that we chopped and diced.
Add the 4 cups of fish stock, the 2 cups of water and Worcestershire sauce into the pot with ALL the vegetables.
Allow to come to a boil then cover and reduce to a simmer for about 15 minutes. After it's been simmering for the 15 minutes we can now add the fish, the butter and cilantro.
Let this all cook for another 10-15 minutes or so on a gentle heat. The last 7 minutes is when you can add the macaroni
To serve, you can either squeeze the lime juice directly into the pot or you can slice it and allow your guests to squeeze it themselves in their soup bowl. Enjoy!