Spaghetti "Aio E Oio" With Basil and Cuisine plum tomatoes.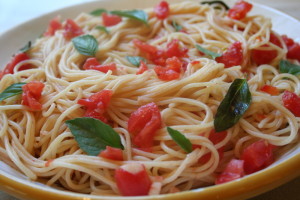 Ingredients
2 packs of Swiss spaghetti,
salt
1/3 cup extra virgin olive oil
2 teaspoons finely chopped garlic
finely chopped chili pepper, to taste
1 to 2 cans Cuisine plum tomatoes
a small handful fresh sweet basil leaves
Directions
Cook the pasta in well salted boiling water.
Put the olive oil, about 1/2 teaspoon salt, the tomatoes, hot pepper (if using it) and garlic into a large bowl.  When the pasta is cooked, drain well and add to the bowl.  Add the basil, torn in smaller pieces if the leaves are big.  Toss the pasta well, adding more salt and freshly ground pepper to taste.
Serve immediately.