Roasted Pumpkin & Chicken Salad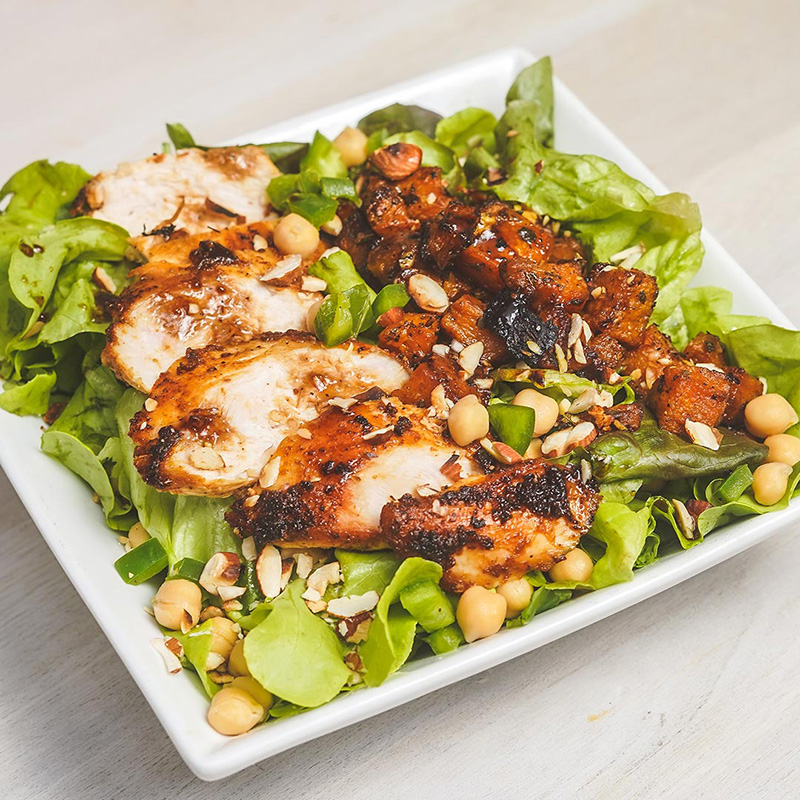 Main Ingredients
2 Small to medium boneless, skinless Chicken Breasts (like 1 inch thick)
3  cups of 1 inch cubed squash (or pumpkin if you can't get it)
2 heads of Artisan lettuce (romaine or plain lettuce will do)
2 cups of arugula
1 red pepper (grilled and finely chopped)
1 cup of Cuisine Chick Peas
1/2 cup of toasted chopped almonds/walnuts (optional if you have allergies
Seasonings 
1 Cinnamon Stick
1 Tbsp of dried sage
1/2 tsp of cinnamon
1.2 tsp of honey
1 clove of garlic (grated)
Salt
Black pepper
Green seasoning, cayenne pepper/paprika, garlic and onion powder (for chicken)
Dressing
1/4 cup Waitrose Lemon Infused Olive Oil
2 tbsp balsamic vinegar
1 tbsp honey
1 tbsp  minced garlic
salt & black pepper (to taste)
Preparation for Chicken
Lightly grease the chicken breast then season (set aside for 30 minutes)
In the meantime, heat up Cuisine Soyabean Oil  in a large skillet.  Vegetable oils have a higher smoke point which is perfect for frying and pan searing.
Cook the chicken breasts over medium-high heat.
DO NOT  try to move the chicken breasts around while cooking. Let cook for 5 minutes or until you can easily flip them over. If there's any resistance, give another minute or so. When it releases from the pan, then it's ready to flip.  Cook for the same time on the other side.  Chicken breasts are cooked through when internal temperature reaches 165F.
Remove from heat and let it rest for at least 5 minutes before slicing. This allows the juices to redistribute which will ensure the chicken breast remains nice and MOIST.
Preparation for Salad
Preheat the oven to 400 – 425 degrees F (200 degrees C).
Toss butternut squash with olive oil, garlic, cinnamon, dried sage, and cinnamon stick in a large bowl. Season with salt and black pepper.
Arrange coated squash on a baking sheet – try not to let them overlap or be too close else they will steam and not roast.
Toss and turn for even browning and cook for 25 – 30 minutes or until fork tender.
While the squash is roasting, assemble the salad. 
Wash and dry the lettuce and arugula
You can start with the greens and layer on the other corn and grilled pepper or toss everything together.
Add roasted squash (let it cool  a bit else it will wilt the greens)
Place sliced roasted breast
Sprinkle with toasted nuts
Drizzle on dressing
Enjoy!