Quinoa Breakfast Cereal with Berries and Almonds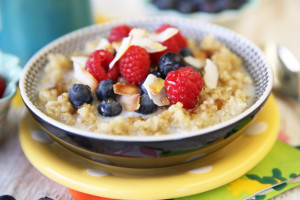 Ingredients:

• 1 cup quinoa, rinsed and dried
• 1 3/4 cup unsweetened coconut milk *can be substituted for any other milk*
• 1 tablespoon brown sugar or 2 tsp agave nectar
• pinch of salt
• 1 cup assorted berries
• 1/2 cup raw almonds, rough chopped
Procedure:

1. Bring coconut milk or regular milk to a low boil and stir in the quinoa. Make sure the pot is large as quinoa expands three – four times its size!
2. Lower the heat and simmer for about 15-18 minutes until the quinoa is plump.
3. Stir in sugar or sweetener of choice
4. Serve with the berries and chopped almonds and add more milk, if desired.
DELICIOUS!