Grilled Fish Tacos with Spicy Mayo, Crunchy Slaw & Pineapple Salsa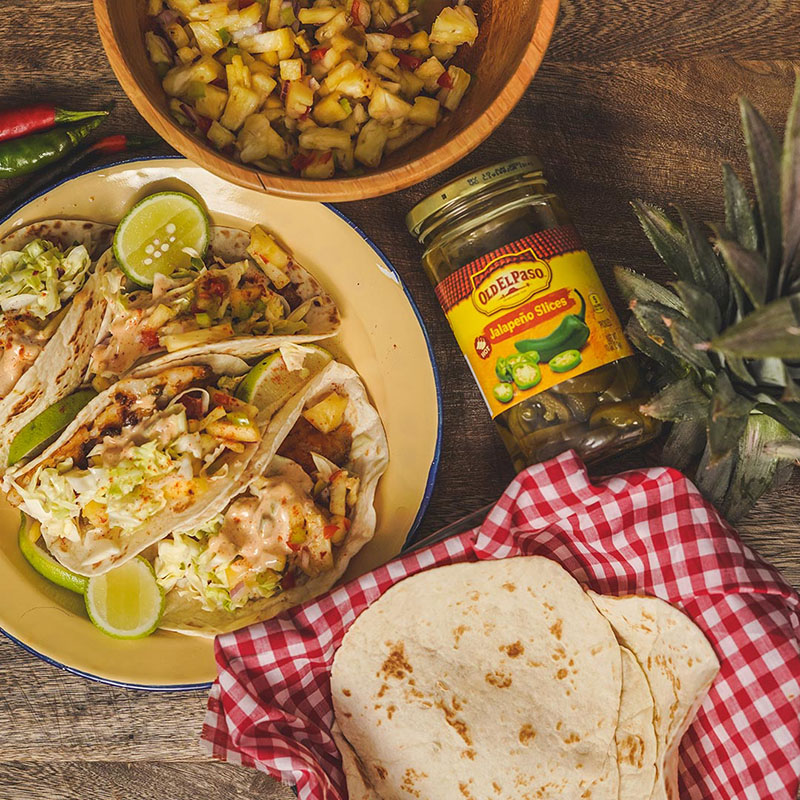 Serves 4
1  package of Old El Paso Flour Tortillas
Marinated Grilled Fish
1 ½ lbs fish fillet ( Tilapia or Mahi Mahi will work best)
3 tbsp of Trini Green Seasoning
1 package of Old El Paso Taco Seasoning
2 tbsp of lime juice
3 tbsp of olive oil
Method:
In a large bowl, toss the fish in green seasoning, taco seasoning, lime juice and olive oil.
Allow to marinate for 2 hours or ideally overnight.
Heat a grill on a medium flame. Place fish pieces onto the pan.
Cook for 5 minutes on each side.
Crunchy Slaw
2 cups of shaved cabbage
½ c. cilantro, chopped or 2 tsp of shadon beni, chopped
2 Tbsp. lime juice
2 Tbsp. pineapple juice
1 tsp. salt
2 tsp red pepper flakes
Combine all ingredients in a large bowl. Set aside and allow to marinate for an hour.