Curry Cascadura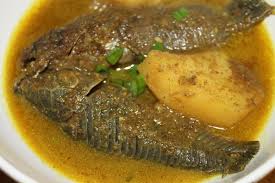 Ingredients
8-10 Cascadura fishes
1 tbsp. curry
3 medium-sized tomatoes
4 cloves garlic
10 leaves chadon beni
1 small onion
1 pimento pepper
1 cup coconut milk
1 tbsp. curry powder
2 tbsp. onion
1 tbsp. garlic
Salt and pepper to taste (about 1/4 tsp)
Oil (about 1 1/2 tbsp,)
Directions:
Clean the cascadura. Chop finely the garlic, onion, pimento, and chadon beni. In a small bowl mix the chopped ingredients and add seasoning mixture.
Dice the tomatoes. Mix the seasoned mixture with the curry and masala.
Mix the chopped tomatoes into the seasoning. This is your stuffing for the fish. Stuff the fish with the tomato and seasoning mixture.
Heat oil in a heavy sauce pan, add onion and garlic and cook slowly until yellow. Mix the curry in a little bit of water and add to the heated oil. Cook slowly.
Add fish and stir until coated with curry. Add a little water to the curry.
Add coconut milk, salt and pepper to the curry and allow to simmer for about 15 minutes. Do not let it dry down.
Serve with dumpling, rice or provisions and Enjoy!!