Beef Bourguignon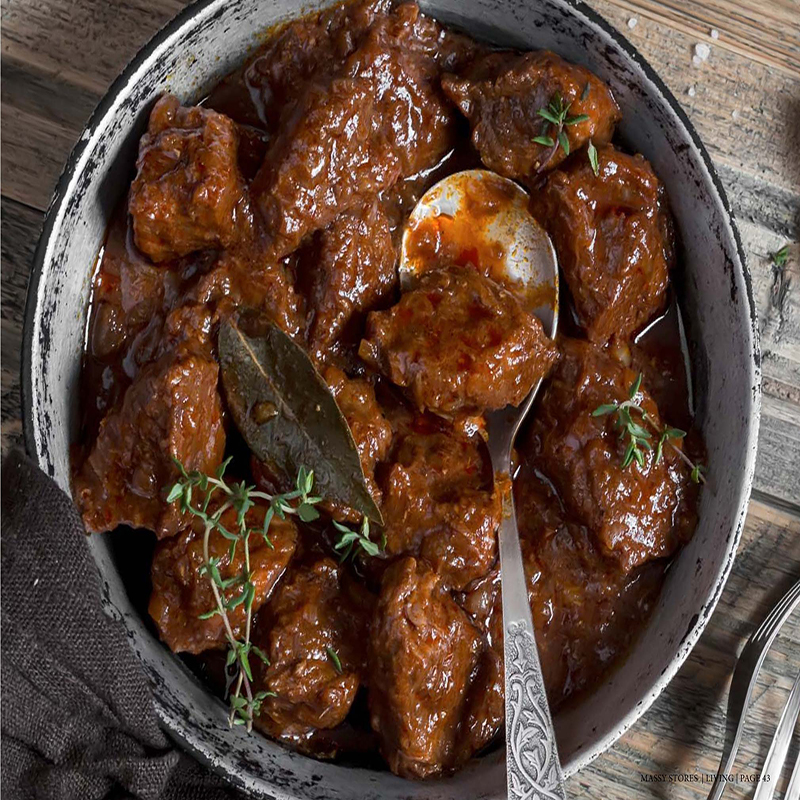 This rich stew originates from the Burgundy region of Eastern France and was made famous by Julia Child in her classic cookbook Mastering the Art of French Cooking. This dish is truly decadent and may seem intimidating but follow the steps closely for almost perfect results. The original recipe calls for red wine and makes no mention of cocoa but in my experiments, the cognac and cocoa add a new dimension of deliciousness. An elegant addition to your Mother's Day menu.
INGREDIENTS
1 lb.               button mushrooms, quartered
2 tbsp.          butter
4                    strips of un-smoked bacon, chopped
1 tbsp.           vegetable oil
3 lbs.             boneless beef chuck, well-trimmed and cut into 2 inch cubes
1                     medium yellow onion, finely chopped
2                     medium shallots, finely chopped
2                     medium carrots, sliced
1 tbsp.            flour
2 cups            cognac
3 cups            beef stock
2 tbsp.           unsweetened cocoa powder
2                     garlic cloves, minced
2 tbsp.           fresh thyme
4 tbsp.           fresh flat-leaf parsley leaves, roughly chopped
1 tbsp.            tomato paste
1                      bay leaf
salt and freshly ground black pepper, to taste
DIRECTIONS
Preheat oven to 325°F.
In a pan sauté the mushrooms in butter until brown and soft, set aside.
In a heavy bottomed pot sauté the bacon in 1 tbsp oil over moderate heat for 2 to 3 minutes until lightly crisp and brown.
Remove to a side dish with a slotted spoon.
Reheat the pan until fat is almost smoking before adding the beef.
Sauté the beef in the bacon fat in batches, making sure not to crowd the pieces.
Add the browned pieces of beef to the bacon, lower the heat to medium and in the same fat, add onions, shallots and carrots, sauté for a few minutes.
Set aside the cooked veggies.
Return beef only to the pot, sprinkle on the flour and toss lightly to coat the beef.
Stir everything around until the flour is cooked through.
Add the bacon and veggies back to the pot and season with salt and pepper.
Stir in the cognac and enough stock so that the meat is barely covered.
Add the garlic, thyme, parsley, tomato paste and bay leaf and bring to a simmer.
Cover the casserole and set it in the oven.
Cook for 2 1/2 to 3 hours.
About 1 hour into the cooking add the mushrooms and stir in the cocoa powder.
Return to the oven.
The dish is done when the meat is fork- tender, serve with mashed potatoes, steamed white rice or try it with our Cassava Au Gratin.