Barbecue Pigtail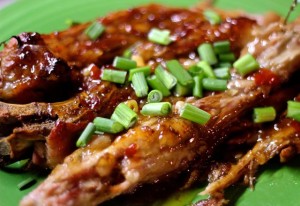 Ingredients
4 lbs pigtail
5 tbsp. green seasoning
5 bay leaves
5 cloves garlic. peeled and chopped
2 cups barbecue sauce
Water (for boiling)
Method
Step 1
Boil for 30 to 45 minutes the first time. Drain and wash under cold water.
Step 2
Boil a second time for 30 minutes adding the bay leaf green seasoning and chopped garlic. Drain and set aside.
Step 3
Make the barbecue sauce. You can use the site recipe or your own favourite blend.
Step 4
To barbecue dip the pigtails in the barbecue sauce before putting it on the grill.
Step 5
Place over the grill and let cook until it achieves a golden brown colour. Then dip again in the barbecue sauce.
Step 6
Let cook for about 2 to 3 minutes then remove. Cut the pigtails at the joints(if you prefer) and serve with pepper and barbecue sauce.
Recipe © Simply Trini Cooking. All rights reserved