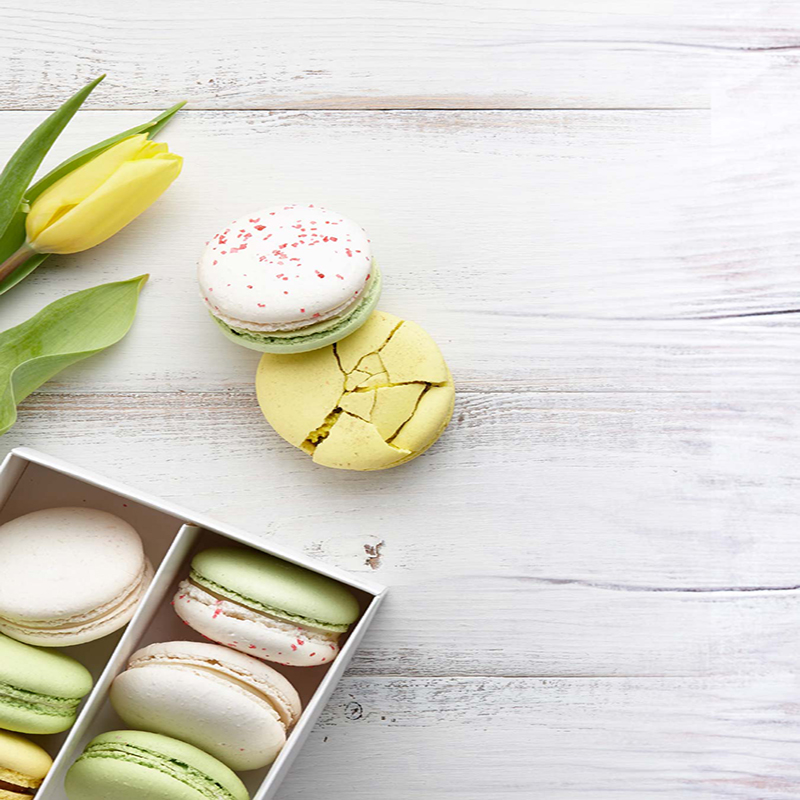 These petite and pretty little patisserie delights are perfect for Mother's Day Brunch. Fill with jam or butter cream.
INGREDIENTS
For macaron shells
1/2 cup            almond flour
1/2 cup            powdered sugar
1/3 cup            egg whites, at room temperature
1/4 cup            caster sugar
1/4 tsp.            cream of tartar, optional
gel food colouring, optional
DIRECTIONS
Line 2 baking sheets with parchment paper.
Sift together almond flour and powdered sugar twice. Set aside.
In a clean medium bowl, beat the egg whites on low speed until foamy. Add cream of tartar and increase the speed to medium. Slowly add sugar one tablespoon at a time. Continue to beat the egg whites on high speed until hard peaks form. Stir in gel food colouring.
Sift almond flour mixture over whipped egg whites, and gently fold it with a spatula until batter is combined.
Transfer the batter into a pastry bag with a round tip. Pipe about 1.5-inch rounds about an inch apart on prepared baking sheets.
Tap the baking sheets firmly on the counter a few times to get rid of any air bubbles.
Let the macarons sit out on the counter for at least 15-30 minutes.
Preheat the oven to 300°F. Bake the macarons one sheet at a time for about 18-20 minutes.
Cool  for 10-15 minutes, and then transfer to a wire rack to cool completely.
Fill with jam or butter cream.
Store the filled macarons in an airtight container in the fridge for up to 5 days. You can also freeze the filled macarons for up to 5 months.
Around this time of year, we limin' plenty. And in the realm of limes, a good grill lime could really hit the spot. With the range of quality products in our grilling section, a quick stop could give you what you need to have an epic grill lime.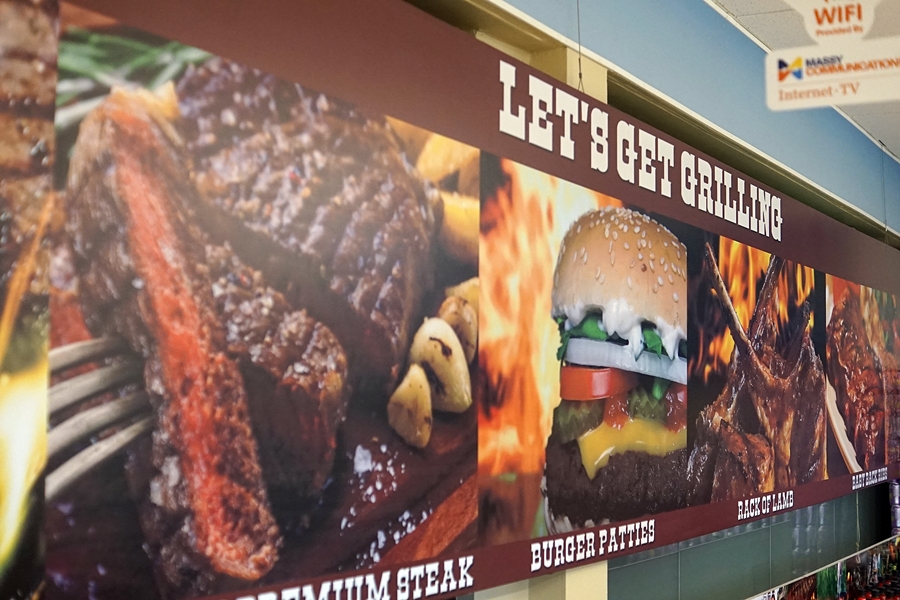 When it comes to BBQ, a rack of ribs always creates excitement. And they're fairly easy to prepare when you know the basics.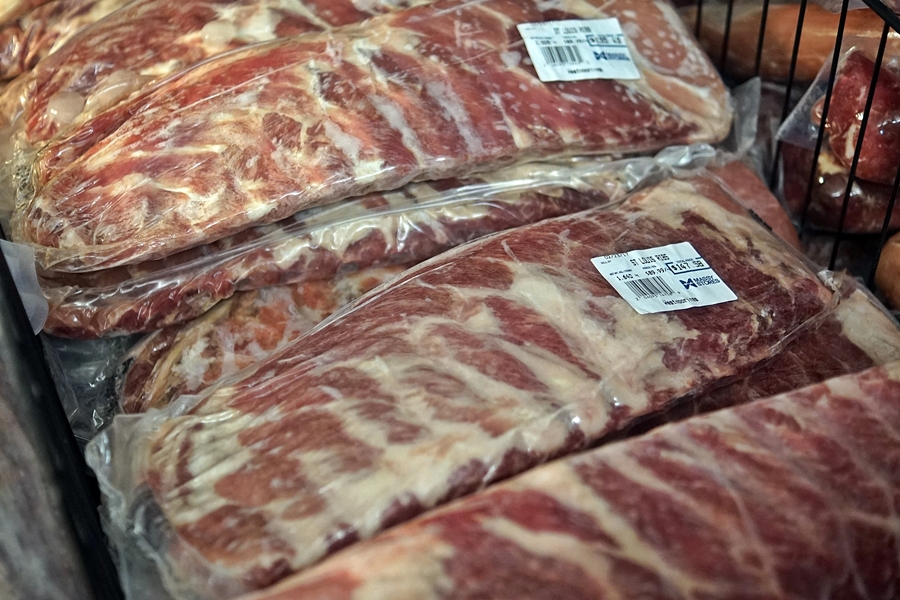 Start by making a dry rub. You'll need Sugar, Cinnamon, Cayenne Pepper, Black Pepper, Onion Powder, Garlic Powder and Paprika. Leave the Salt out for now. We'll tell you why in a bit.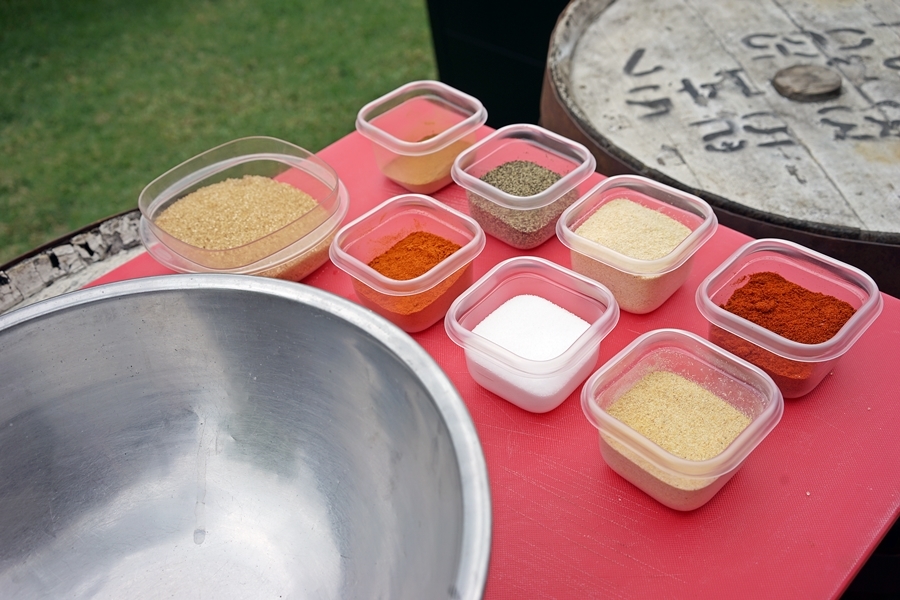 Feel free to freestyle or tweak or substitute flavors as you want, but you can pretty much use 1 to 1½ tablespoons of each ingredient and get great results.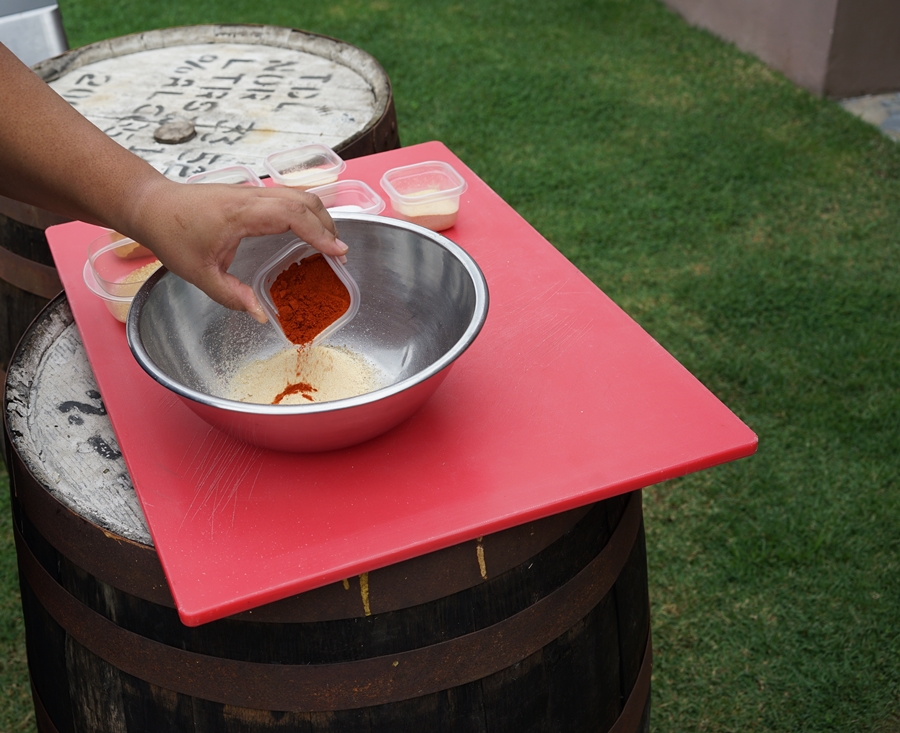 Combine these dry ingredients evenly and that's it.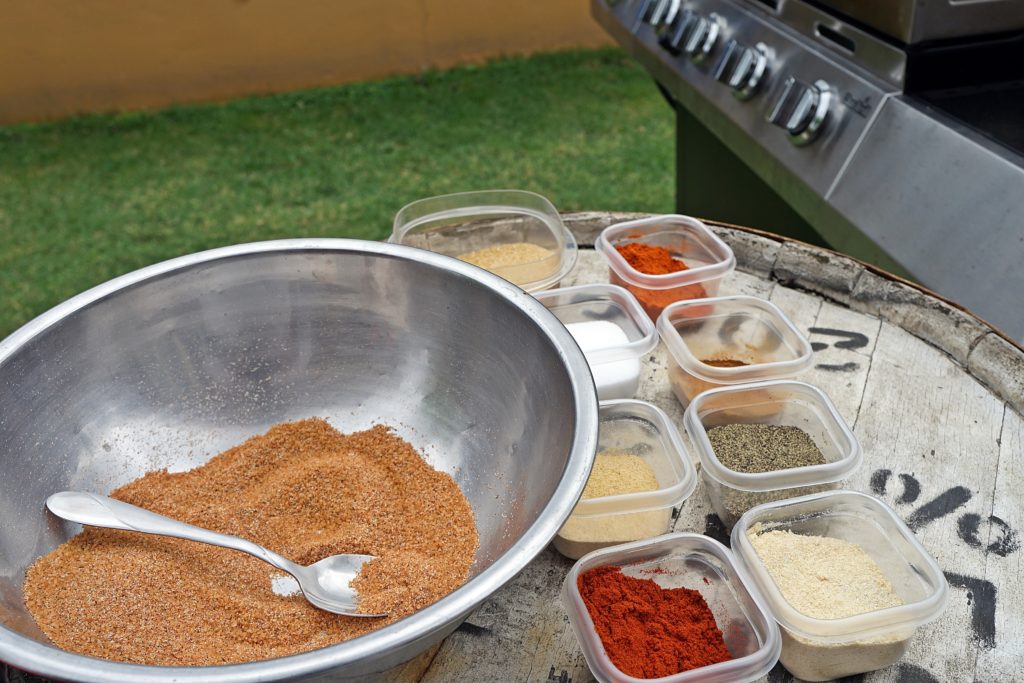 With your ribs already thawed, washed and patted dry, take off any excess fat or tissue including that thin membrane on the bone side to help the meat absorb more flavor. It comes off fairly easily. Just cut a little corner to get a grip and peel it all off. It's OK if it doesn't come right off with one pull.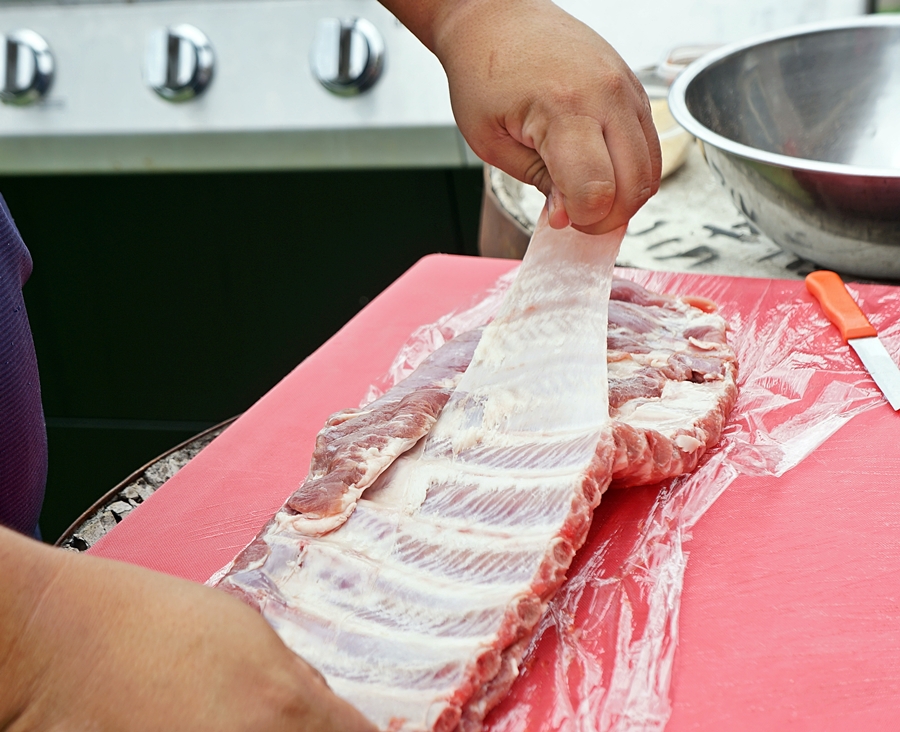 Now to season. Add salt separately so you can have more control over your salt levels. This is up to your taste and/or dietary needs.
Then apply your dry rub. It's a rub, so after sprinkling it on make sure to rub it all over.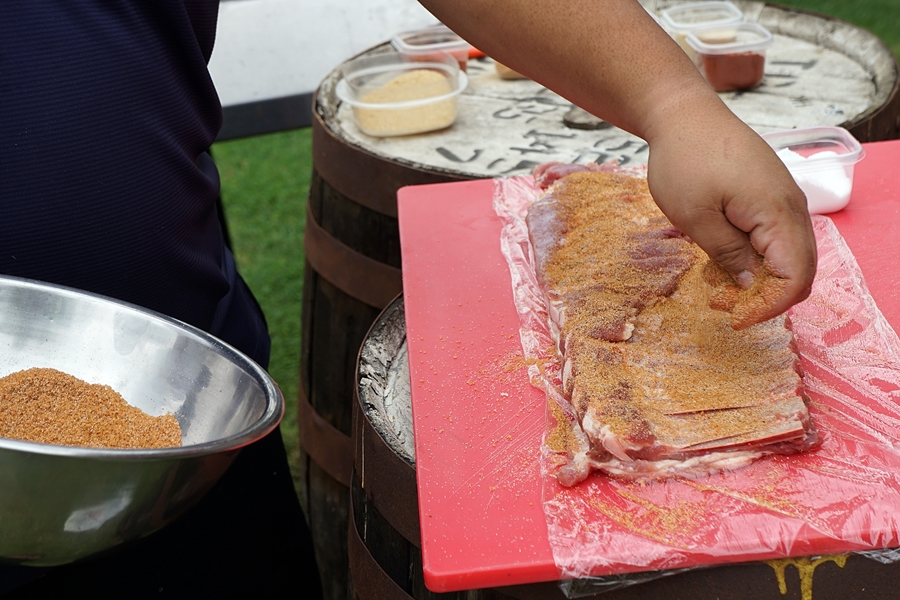 Flip it over and treat the other side the same. As much coverage as possible.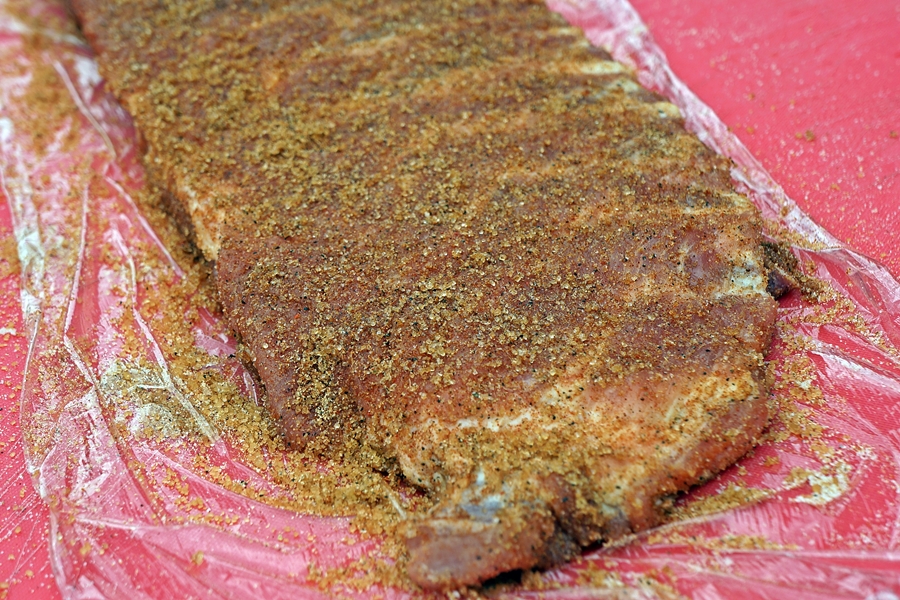 You want to let the seasoning soak in a bit. Ideally, you want to wrap it in cling wrap and leave it in the fridge overnight. But if time is of the essence, a 2 hour period should do the trick.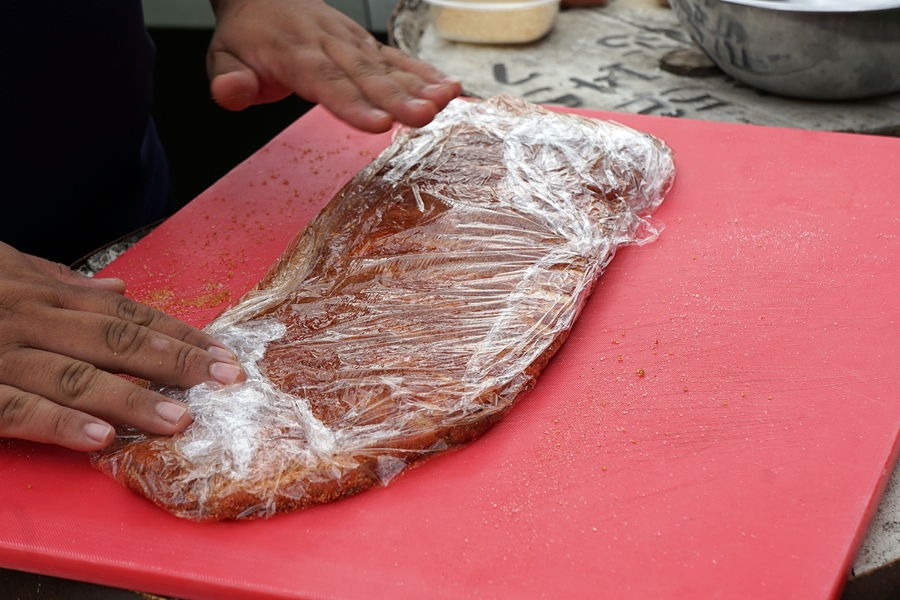 Your next step is to put the ribs on the grill. You'll want to grill with indirect heat, covered for 1½ to 2 hours.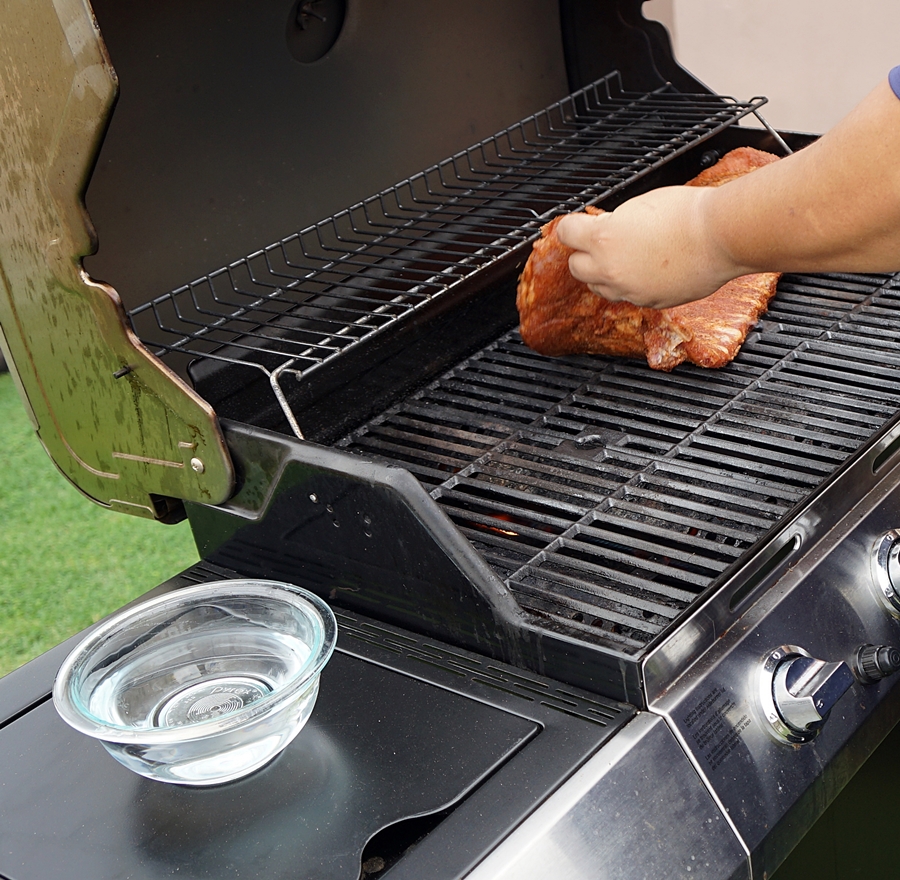 Here's a tip: Put a heat-safe bowl of water on the grill to help keep the ribs moist while cooking. Check it from time to time and top it up with warm water if needed.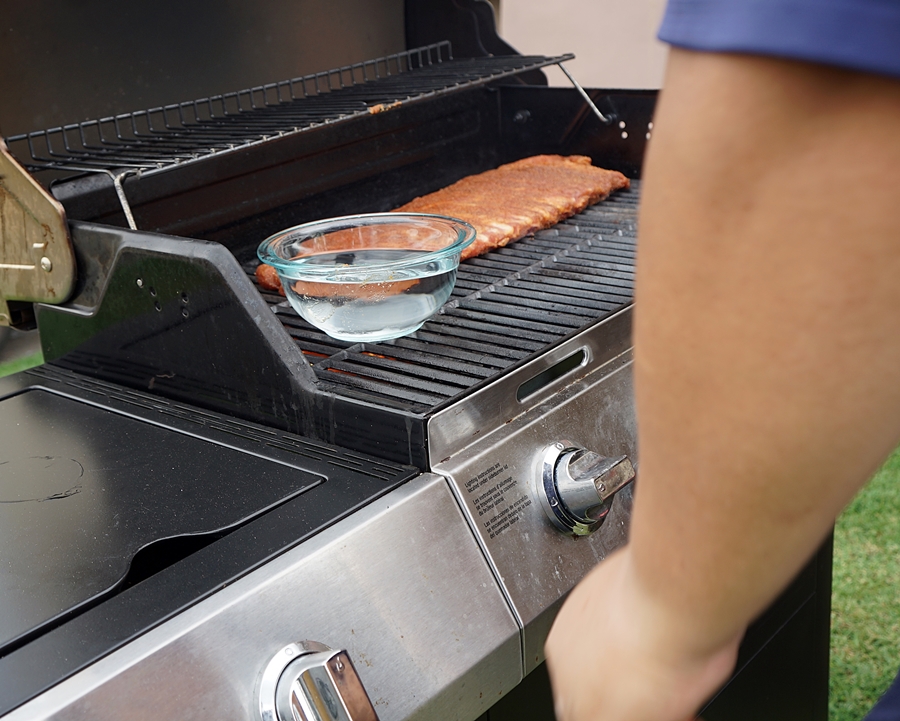 About 2 hours later, you should be looking something like this. Almost done. Time to finish up the ribs with some caramelization.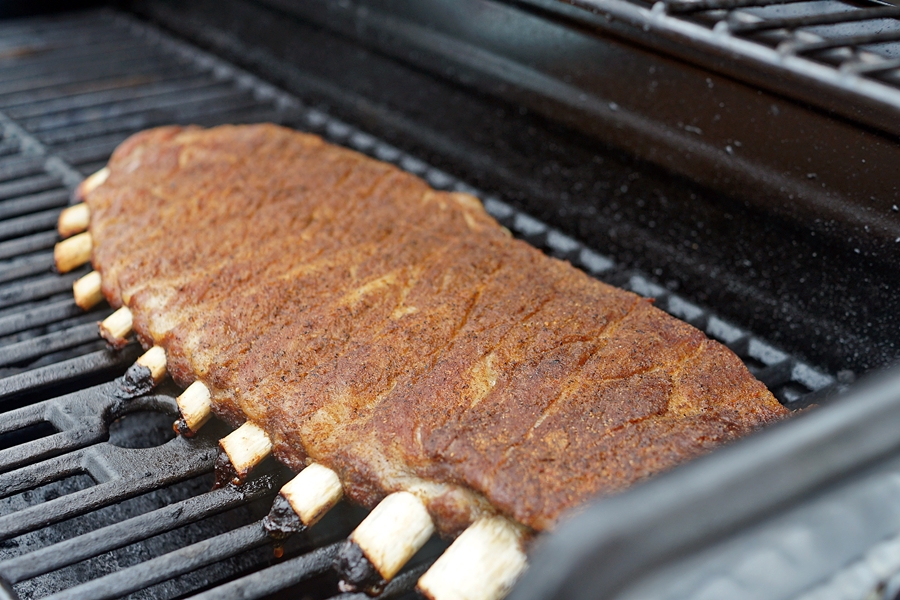 Brush on a generous coat of your favorite BBQ sauce. Of course, the more particular you are the better, but a very basic sauce will do since you already added nice flavors with your dry rub. Coat both sides and leave it on the grill for 5 to 7 minutes on each side so the sauce caramelizes.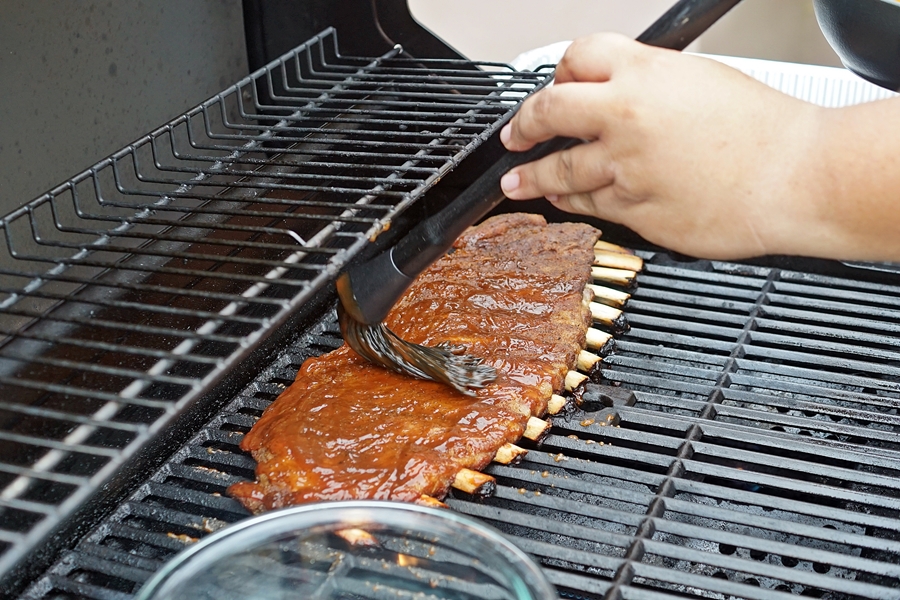 While that's happening, cover some veggies with a little olive oil. Salt and black pepper optional.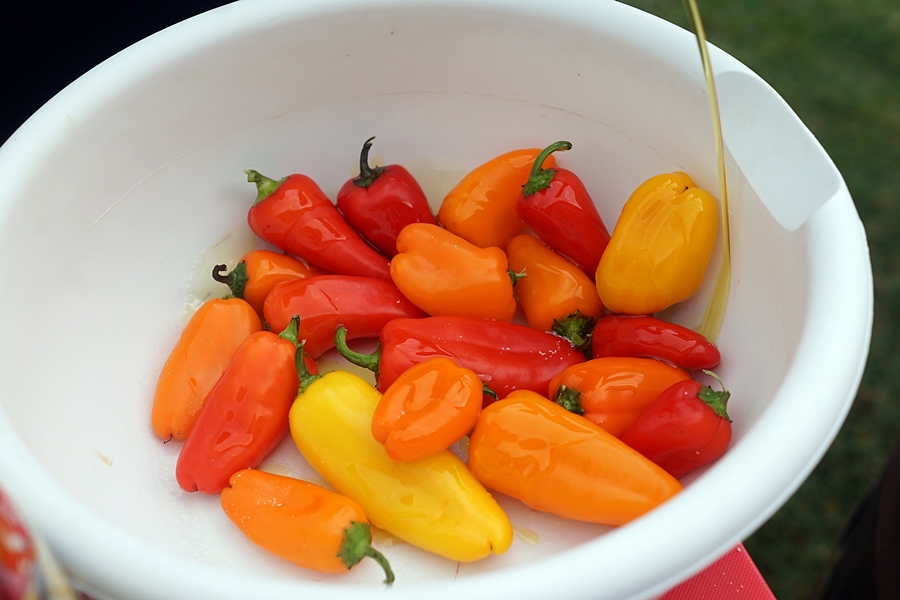 Then place them on the grill while the ribs finish. Sweet Peppers, Onion and Garlic change flavour for the better and make nice sides when they're roasted.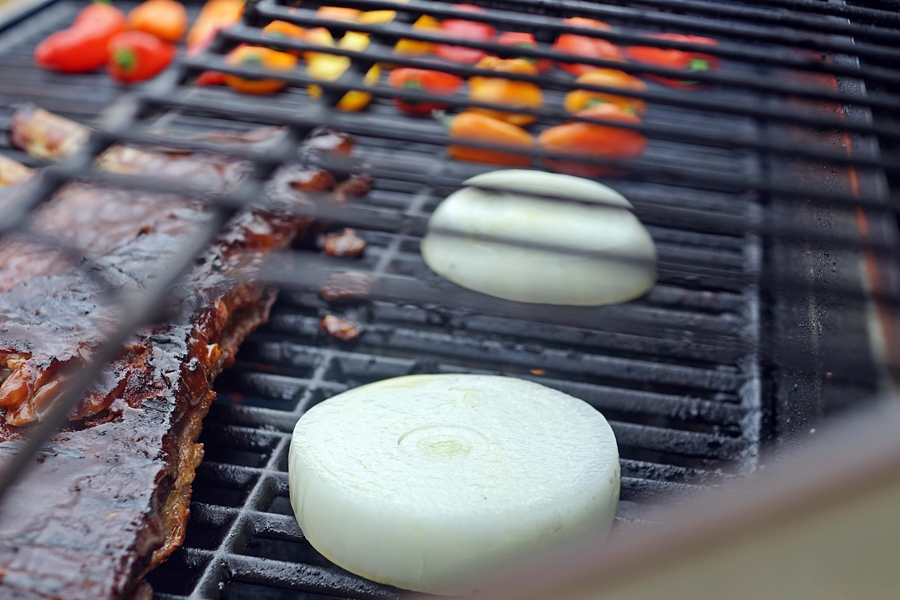 You can serve ribs up as part of a meal, cut them up like cutters or present them family style. Either way, all you need is a little color for your ribs to look superb.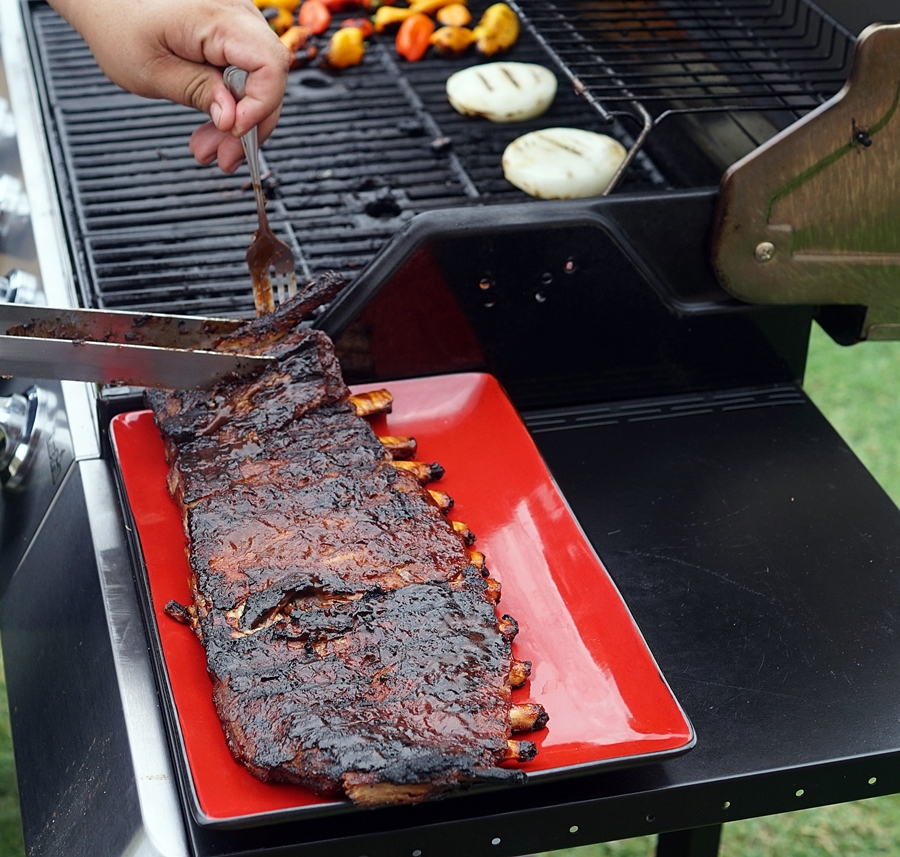 And that's it. A rib platter that can earn you stripes on the grill. To see this process in action, check out the video below. And check out the grill section at your favorite Massy Stores location so you can get grilling too
.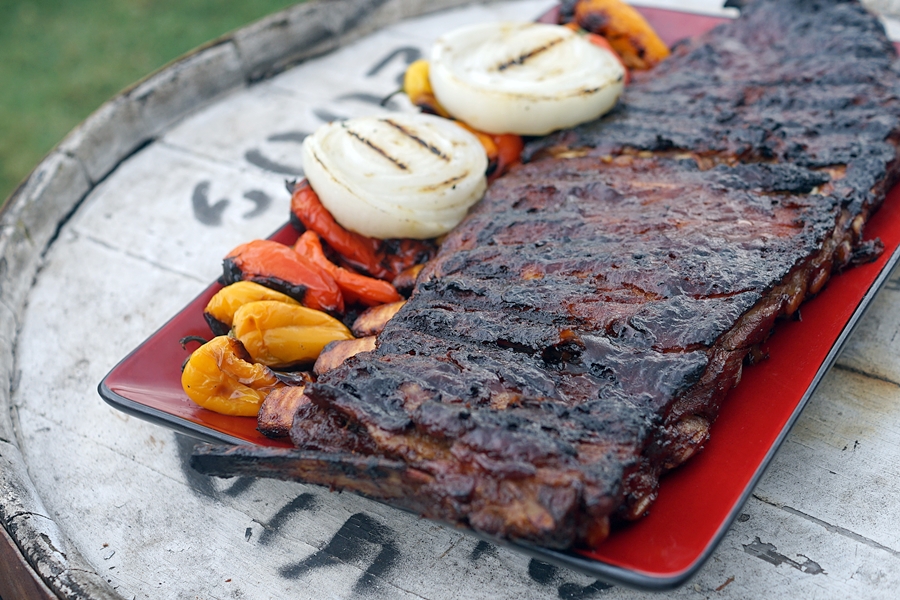 Ingredients:
2 tablespoons brown sugar
1 tablespoon mustard
1 tablespoon paprika
1 teaspoon  black pepper
1 teaspoon garlic salt
2 racks baby back pork ribs (4 pounds): At Massy Stores Save $7.50 on Hormel Baby Back Ribs $92.49
BBQ Sauce of your choice
Directions:
Preheat the oven to 350 degrees F.
Mix together the brown sugar, mustard, paprika, black pepper and garlic salt together in a small bowl. Be sure to break up any lumps with your fingers. Reserve 1 tablespoon of rub in a small bowl for serving.
Remove the silver skin from the underside of the ribs by sliding your fingers under the thin membrane and pulling it off. Repeat with the second rack.
Rub the ribs with the seasoning on both sides. Place in a single layer in a large roasting pan and cover tightly with heavy-duty foil.
Place the roasting pan into the oven and bake until the ribs are tender, about 1 hour 15 minutes.
Preheat the grill to medium heat.
Grill the ribs on each side for 15 minutes, watching and flipping when necessary, for 30 minutes total. Baste with BBQ Sauce the last 10 minutes. (The sauce goes on at the end because it is sugar based and you don't want to burn your ribs.)
Let the racks rest 5 minutes before slicing into individual ribs. Sprinkle the cut ribs with the reserved dry rub and serve along with extra sauce.