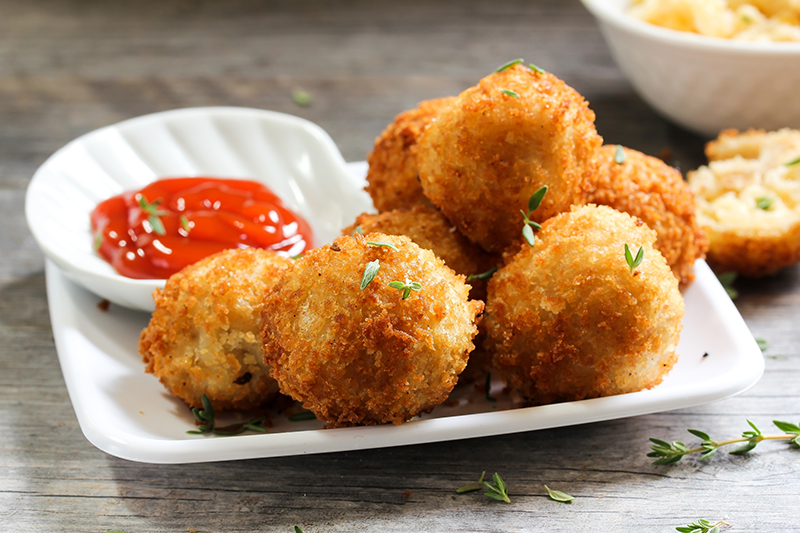 Ingredients:
3 Cups Of Cuisine Elbow Macaroni, Boiled And Drained
1 Cup Of Heavy Cream
1 Cup Of Grated Cheddar Cheese
2 Oz Of Butter
Black Pepper, To Taste
2 Eggs
1 Cup Flour
1 Cup Of Breadcrumbs
Oil For Deep-frying
Method:
1. Place Boiled Macaroni Into A Large Baking Dish.
2. In A Medium Saucepan, Heat Heavy Cream Just Until The Liquid Begins To Steam.
3. Stir In The Grated Cheese And Butter.
4. Pour The Cream And Cheese Mixture Onto The Macaroni And Toss To Coat The Macaroni.
5. Allow To Cool, Then Refrigerate For Three Hours.
6. Scoop The Macaroni Out, One Tablespoon At A Time, And Form Into Balls.
7. Freeze For 30 Minutes.
8. While The Macaroni Balls Are Freezing, Set Up The Breading Station As Follows: In A Small Bowl, Beat Eggs And Set Aside. Place Flour And Breadcrumbs In Two Separate Bowls, Respectively. Heat Oil To 320ºf.
9. Roll The Frozen Macaroni Ball Into The Flour, Then Dip Into The Egg And Toss In Breadcrumbs.
10. Fry Until Golden Brown.
11. Place On Paper Towel To Drain Before Serving Hot.
1 lb of Cuisine Black Beans, cooked and drained
2 tbsp of Cuisine Flax Seeds
2 tbsp of Chia Seeds
½ cup of water
¾ cup Cuisine Genuine Demerara Brown Sugar
1 tsp baking powder
1 tsp salt
½ cup cocoa powder
3 tbsp Cuisine Soyabean Oil
¼ cup chocolate chips
¼ cup chopped pecans or walnuts (optional)
Preheat oven to 350F. Grease a 9 inch by 9 inch baking dish with vegetable oil or non-stick spray.
Using a food processor, pulse the cooked black beans into a paste.
In a small bowl, combine the chia seeds, flax seeds and water. Allow to sit for 5 minutes.
Add the chia and flax seed mix to the food processor, along with the brown sugar, baking powder, salt, oil and cocoa powder. Pulse until the mixture is smooth.
Spread the batter into the prepared baking dish and top with chocolate chips and nuts.
Bake for 30 minutes.
Cut into squares when cool.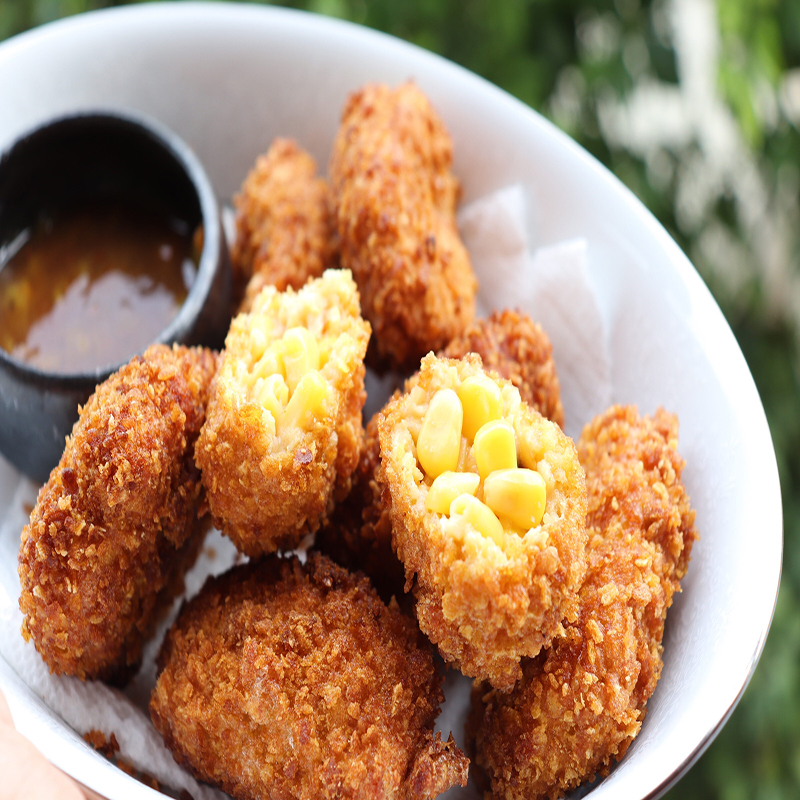 Makes 24 nuggets
Batter
1 can of Cuisine Whole Kernel Corn
½ can of Cuisine Cream Style Corn
1 cup of crushed corn flakes
1 tbsp of Cuisine Full Cream Milk
¼ cup of Cuisine All Purpose Flour
2 teaspoon of brown sugar
1 teaspoon of salt
1 teaspoon of red pepper flakes
1 teaspoon of minced pimento peppers
½ teaspoon of chili powder
1 egg white
Breading
2 cups of crushed corn flakes
2 eggs, beaten
3 cups of Cuisine Soyabean Oil for frying
Method:
Combine all of the batter ingredients into a large bowl and mix well.
Using a teaspoon, carefully spoon the batter onto a baking sheet lined with foil and greased well.
Place the baking tray into a freezer and allow to set for at least 45 minutes.
Heat oil to 300ºF .
Carefully dip the frozen batter into the beaten eggs, then into the crushed corn flakes and repeat a second time.
Place the nugget into the oil and fry until golden brown.
Sweet Mango Dip  
1 tablespoon Cuisine Souyabean oil
1/2 teaspoon red pepper flakes
1 medium onion, chopped medium
1/4 cup finely chopped peeled fresh ginger
1 clove garlic, minced
4 lbs mangos, chopped
1 1/2 cups sugar
3/4 cup distilled white vinegar
1/2 cup Cuisine Golden Raisins
1 teaspoon garam masala
1 teaspoon salt
1/2 teaspoon mustard seeds
Heat oil and chili flakes in a saucepan over medium heat. When oil starts to bubble around flakes add in onion and cook until softened, about 5 minutes, stirring often. Add in ginger and garlic and continue to cook until fragrant, about 1 minute.
Add mangos, sugar, vinegar, raisins, garam masala, salt, and mustard seeds to pan. Bring to a boil, reduce heat and simmer until mangos are softens and sauce is thick and syrupy.
Place in a large jar, allow to cool, cover and store in the refrigerator.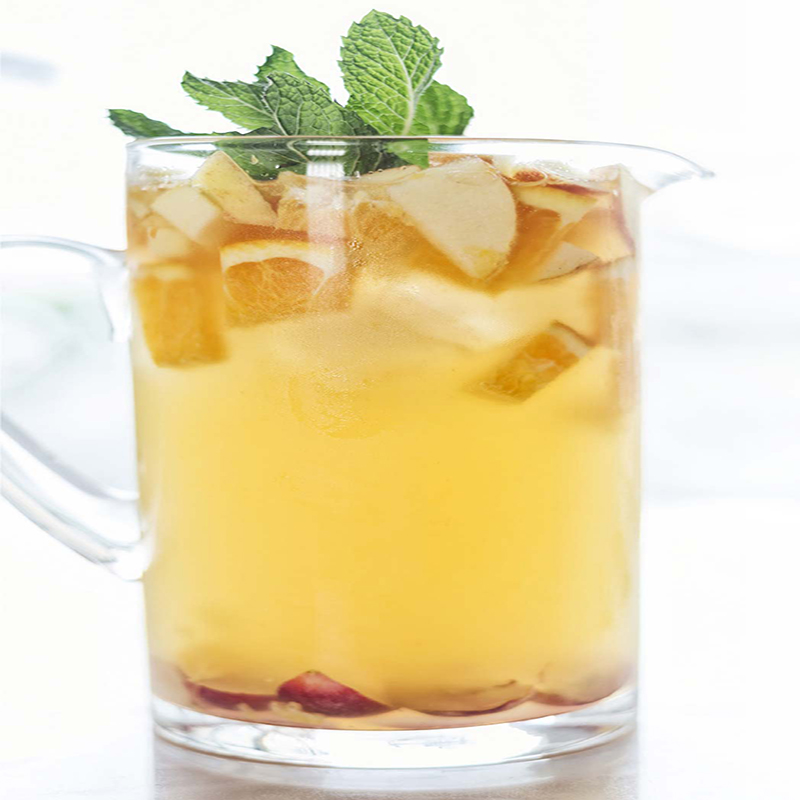 INGREDIENTS
25 oz. (750ml)        white wine (1 bottle)
2/3 cup                    white sugar
3                                oranges (cut into wedges or 1 cup orange juice)
1                                 lemon (cut into wedges)
1                                 lime (cut into wedges)
2 oz.                          brandy (optional)
2 cups (500ml)       ginger ale or club soda (optional)
DIRECTIONS
Squeeze the juice from the citrus wedges into the pitcher.
Toss in the wedges after removing the seeds.
Pour the wine into a pitcher.
Add the brandy and sugar.
Stir well until the sugar is dissolved.
Chill overnight to marry all of the flavors.
Add the ginger ale or club soda just before serving so the sangria retains its sparkle.
INGREDIENTS
1 tbsp.            canola oil
1                     boneless beef chuck roast (2 1/2 lbs.), halved
1/2 cup          water
2                     medium sweet potatoes, cubed
2                     large carrots, sliced
1                     large onion, chopped
1/4 cup          chopped celery
1 can (15 oz.) tomato sauce
2                     garlic cloves, minced
1 tbsp.            all-purpose flour
1 tbsp.            sugar
1 tbsp.            brown sugar
1 tsp.              ground cumin
3/4 tsp.          salt
3/4 tsp.          ground coriander
3/4 tsp.          chili powder
3/4 tsp.          grated orange zest
3/4 tsp.          baking cocoa
1/2 tsp.          dried oregano
1/8 tsp.          ground cinnamon
DIRECTIONS
Select sauté or browning setting on a 6 quart electric pressure cooker. Adjust for medium heat, add 1 1/2 teaspoons oil. When oil is hot, brown one roast half on all sides. Remove and repeat with remaining beef and oil.
Add water to pressure cooker. Cook 30 seconds, stirring to loosen browned bits from pan. Press cancel. Place sweet potatoes, carrots, onion and celery in pressure cooker, top with beef. Combine remaining ingredients and pour over top.
Lock lid, close pressure-release valve. Adjust to pressure-cook on high for 55 minutes. Let pressure release naturally. A thermometer inserted in beef should read at least 145°F. Freeze option: Place pot roast and vegetables in freezer containers, top with cooking juices. Cool and freeze. To use, partially thaw in refrigerator overnight. Heat through in a covered saucepan, stirring gently and adding a little water if necessary.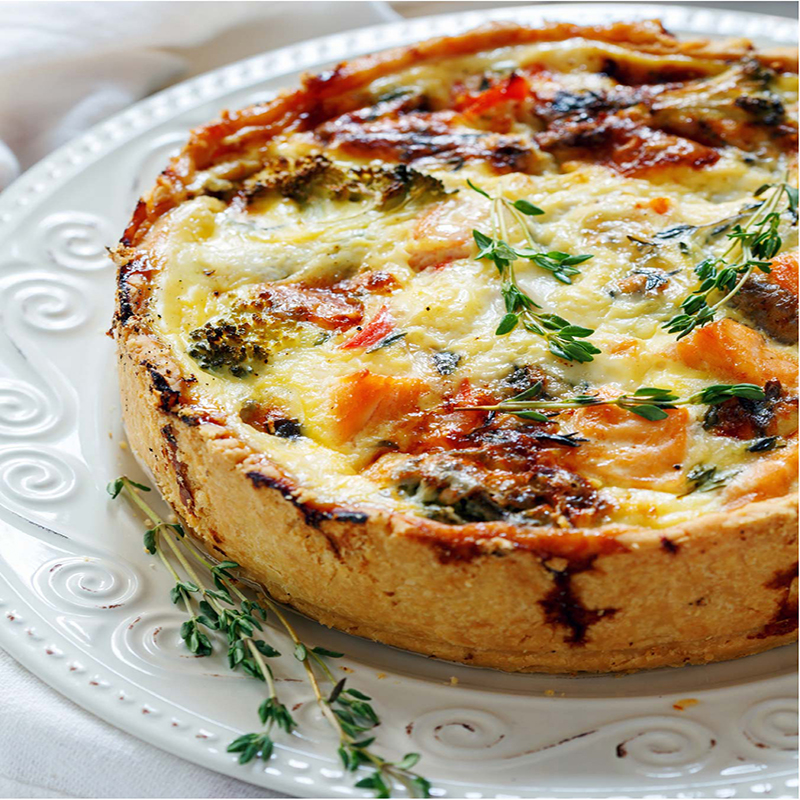 INGREDIENTS
(Serves 6)
400g              smoked salmon, sliced into strips
4                     sheets flaky puff pastry
2-3 cups        finely chopped vegetables (spinach, broccoli, red peppers, mushrooms)
2                     cloves garlic, crushed
1 tbsp.            lemon juice
5                     large eggs
1 cup              cream
3/4 cup          grated cheddar cheese
1/2                 red onion, thinly sliced
1/4 cup          fresh chives or parsely, finely chopped
2 tbsp.            chopped fresh dill (or 1 tsp. dried)
Zest of 1 lemon
Pinch of chilli flakes (optional)
DIRECTIONS
Defrost the pastry so it's at room temperature. Prepare a pie dish or 26cm diameter quiche tin.
Preheat the oven to 400°F. Roll out the pastry on a clean, floured surface so it's larger than the size of your tin/dish. Line the tin with the pastry, trimming to leave a little overlap to counteract shrinkage. Prick the base with a fork.  Cut a circle of baking paper to fit up the sides of the dish and fill with baking beads/dry chickpeas/rice/lentils.
Bake near the bottom of the oven for 15 minutes so the sides go golden brown.
Remove the baking paper and baking beads and cook for another few minutes to dry out the bottom. Brush the pastry base all over with beaten egg before it goes back in to help seal it, which prevents sogginess.
Remove from the oven, set aside and reduce the oven temperature to 350F.
Heat 1 tbsp olive oil in a pan over a medium heat and add the onion. Cook, stirring, for 5 minutes until soft. Add the veggies, garlic and lemon juice, and cook for another 10 minutes until the veges are wilted and most of the liquid has evaporated. Season with salt and pepper.
Whisk the eggs in a bowl with the cream, ½ tsp salt and ½ tsp black pepper.
Add the cheese, salmon, red onion, chives, dill, lemon zest and chili to the cooked vegetables. Spoon into the pastry case. Pour the egg mixture carefully over top. Sprinkle with more cheese.
Bake just below the centre of the oven for 45 minutes to 1 hour, or until the egg is set and the base is cooked through.