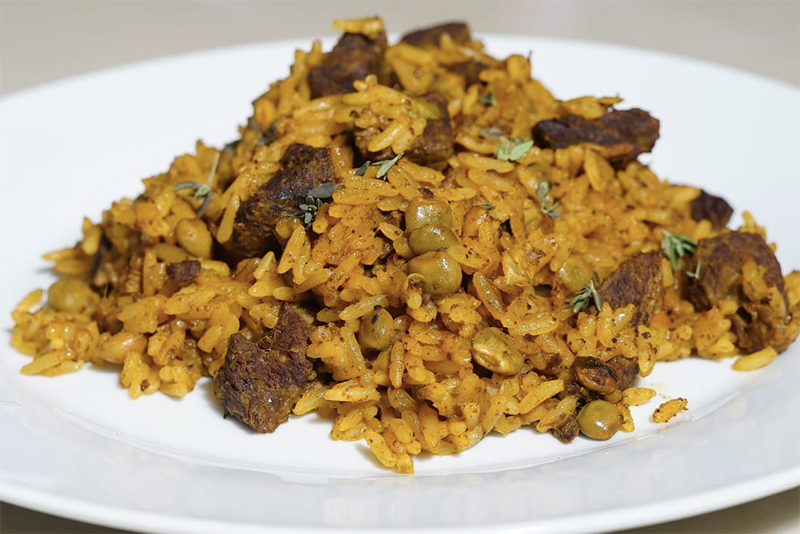 Ingredients:
2 Cups Cuisine® Parboiled Rice
1/3 Cup Cuisine® Brown Sugar
2 tbsp Cuisine® Soya Bean Oil
1 Can Cuisine® Green Pigeon Peas
1 lb Beef-Seasoned and cubed small
1 Onion
4 Cloves Garlic
3 Cups Coconut milk
1 Scotch Bonnet Pepper
Salt & Black Pepper (to taste)
Method:
Place a pot on a medium heat then add the oil and sugar.
Let the mixture sit for another 2-3 minutes until it has caramelized.
Add the beef and mix until all the pieces are fully coated.
Cover and allow to cook on low heat for 45 minutes or until beef is tender.
Place onion, garlic, rice and mix well and sauté for 2 minutes
Add peas or any other vegetables you like and combine
Add coconut milk, salt, black pepper and scotch bonnet pepper
Stir well, cover and cook until the rice is tender about 20-25 minutes
Serve hot and enjoy with your favourite salad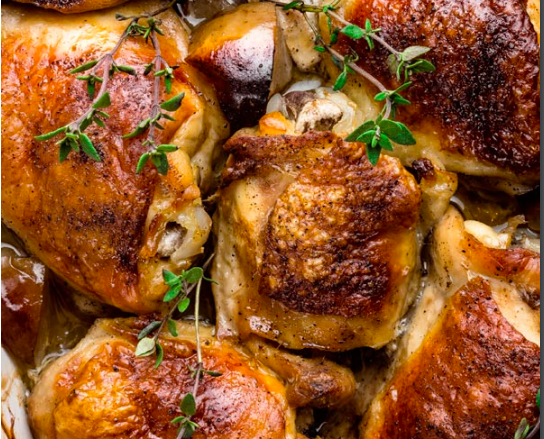 INGREDIENTSINGREDIENTS
2     large onions, quartered
4     medium chicken thighs, bone-in, skin-on
4     chicken drumsticks 2 tbsp. vegetable oil
1 cup     baby portobello or cremini mushrooms, trimmed and halved
3 oz.     bacon (3 strips), cut into 1/4-inch strips
1 cup     dry white wine
3 large thyme sprigs
1 cup     homemade or low-salt canned chicken broth
2 tsp.     fresh thyme leaves
salt and freshly ground black pepper
DIRECTIONS
Position a rack in the centre of the oven and heat the oven to 350°F.
Season the chicken pieces generously with salt and pepper. In a straight-sided 10-inch or 11-inch ovenproof sauté pan with a lid, heat the oil over medium-high heat until very hot. Arrange the chicken pieces skin side down in the pan so that they are crowded, cover with a splatter screen, if you have one, and cook until deeply  browned, about 5 minutes.
Turn the pieces over and cook until the other sides are browned, 3 to 5 minutes more.
Transfer to a plate. Pour out and discard all the fat from the pan.