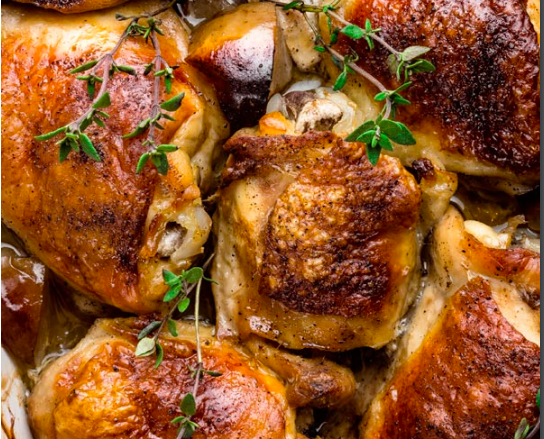 INGREDIENTSINGREDIENTS
2     large onions, quartered
4     medium chicken thighs, bone-in, skin-on
4     chicken drumsticks 2 tbsp. vegetable oil
1 cup     baby portobello or cremini mushrooms, trimmed and halved
3 oz.     bacon (3 strips), cut into 1/4-inch strips
1 cup     dry white wine
3 large thyme sprigs
1 cup     homemade or low-salt canned chicken broth
2 tsp.     fresh thyme leaves
salt and freshly ground black pepper
DIRECTIONS
Position a rack in the centre of the oven and heat the oven to 350°F.
Season the chicken pieces generously with salt and pepper. In a straight-sided 10-inch or 11-inch ovenproof sauté pan with a lid, heat the oil over medium-high heat until very hot. Arrange the chicken pieces skin side down in the pan so that they are crowded, cover with a splatter screen, if you have one, and cook until deeply  browned, about 5 minutes.
Turn the pieces over and cook until the other sides are browned, 3 to 5 minutes more.
Transfer to a plate. Pour out and discard all the fat from the pan.

Originating in Venezuela, this dish is a Christmas tradition in Trinidad.
INGREDIENTS
3 lbs. minced beef
1/2 tsp. black pepper
1 head garlic, minced
3 onions, minced
3 bunches scallions, minced
1 West Indian seasoning
3 sweet bell peppers, minced
1 bunch thyme, minced
1 cup green olives, chopped
1 cup raisins
1/3 cup capers
1/4 cup vegetable oil
2 lbs. cornmeal
7 cups warm water
1/4 lb. margarine
1 tbsp. sugar
pepper (pimento)
salt to taste
DIRECTIONS
In large sauté pan, cook seasonings: garlic, onion, scallions, peppers, thyme. Add minced beef, salt, black pepper; cook until well-browned. Turn off heat; add capers, olives, raisins.
Warm 7 cups of water; add margarine and season with salt to taste; add sugar and mix with the cornmeal in a large bowl; let sit for 15 minutes.
Make 45 balls with the mixture. On the banana leaves, flatten out the cornmeal balls and fill with meat mixture; fold into a pillowcase shape and wrap inside banana leaf (cut to size). Tie the ends of the leaves with string; steam for 30-40 minutes.
Polenta Squares
6 C Cuisine full cream milk
3 C Cornmeal
1 tsp salt
1 tsp black pepper
3 tbsp butter (soft)
Butter (greasing pan)
Method
* Grease a 15" by 10" pan with butter and set aside.
* In a large pot bring milk to a rolling boil. Add cornmeal slowly while whisking vigorously.
* Whisk in the butter until there are no more lumps. Add salt and black pepper. Mix well
* Keep on a low flame for 10-12 minutes.
* Place into greased tray and spread evenly with a spatula. Allow to cool and transfer to your fridge to set firm. Once set cut into evenly sized squares.
* Additional** Cut squares and place into the oven for about 5 -8 minutes at 375 degrees. This will give a light toast to the squares and a lovely rustic appearance.
Minced beef or Chicken
1lb minced beef /chicken
1/2C Cuisine Raisins
1/4 C Roucou
1 tbsp Capers (small)
2 Onions (medium and diced small)
2 tbsp Chadon Beni (finely chopped)
3 tbsp Pimento pepper (diced small)
3 tbsp Garlic (diced small)
1 tbsp Fresh fine Thyme
2 tbsp chives (thinly sliced )
3 tbsp Tomato Ketchup
3 tbsp Cuisine Soya-bean Oil
Salt -to taste
Black Pepper -to taste
Method
* In a medium pot heat oil and sauté vegetables and herbs for 2 minutes. Add beef and allow to cook for 15 minutes. Nb( If using chicken only about 10 minutes is needed )
* Add ketchup,raisins,olives,capers,roucou and allow to cook for another 2 minutes and set aside.
Sorrel Rosemary Reduction
2C Sorrel Flowers (boiled)
1 C Sorrel Liquid (boiled)
1C water
1/2 C Cuisine Brown Sugar
2 sprigs Rosemary
1 tbsp Butter
2 Bay leaves
2 Cinnamon sticks
3 Cloves
1 tbsp ginger (grated )
Method
* Place a pot on medium heat ,melt butter and sauté rosemary. Bring 3/4C of the sorrel liquid along with the cinnamon sticks ,bay leaf,cloves ginger,sugar and water.
* In a food processor blend boiled sorrel flowers and remaining sorrel liquid until a smooth paste.
* Add the sorrel paste into the pot and stir every 2 minutes until the liquid has reduced by half.
* Serve hot!
Assembly
Place a square on a plate or serving tray , top with minced beef or chicken and drizzle sorrel reduction.
Serve hot and enjoy !