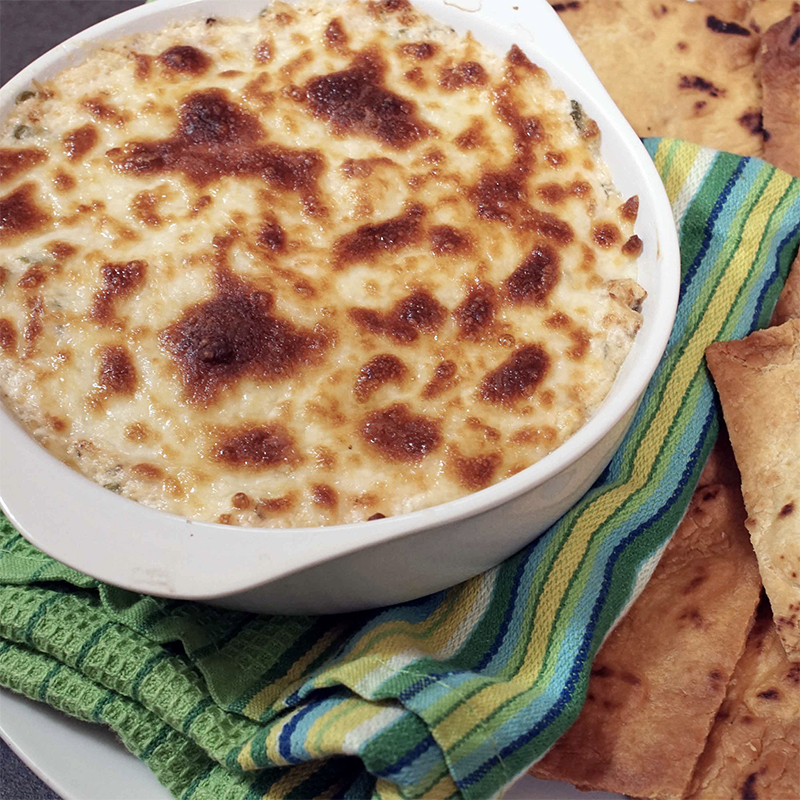 Ingredients
6 ounces cooked salmon*
8 ounces cream cheese softened
1/4 cup mayonnaise
1/4 cup finely chopped chive
3 tsp finely diced parsley
3 cloves of garlic, minced
1 tsp cayenne pepper
1 teaspoon lemon juice
Salt & pepper, to taste
½ cup of mozzarella cheese
*Salmon can be baked or pan-fried
Method
Preheat the oven to 400ºF
Crumble the cooked salmon into flakes.
Combine the remaining (except the cheese) with the salmon.
Transfer the mixture to a small baking dish.
Top with cheese.
Place in oven and bake for 15 minutes or until the top is bubbly and lightly brown.
Serve with toasted bread, crackers or pita chips
The Sugar Apple plant is being used for the plant torch activity. The imagery of the Olympic Torch is being used to pass the Sugar Apple plant from school to school throughout Trinidad and Tobago where it will be nurtured by children. The fire of the Olympic Torch, once lit remains throughout the games, despite the weather. When passing the plant from school to school,we hope that, in a similar manner it will not go out/die as we pass it from school to school.
The plant is being used as a symbol of food security for us in Trinidad and Tobago. The symbolic gesture of passing the plant therefore depicts the sharing of the responsibility of achieving the goal of food security.
The first inaugural Plant torch activity was held in 2016 as a precursor to the actual Run for Food. It started with the exchange of a Penny Piece plant between Trinidad and Tobago on February 17, 2016. The plant nurtured in Trinidad was planted in the Hollows of the Queens Park Savannah on 9th April 2016 at a tree planting ceremony. A similar activity was done in Tobago. Since then:
In 2017, 7 schools participated and the Balata Plant was used as the "Torch"
In 2018, 8 schools participated and the Tamarind Plant was used as the "Torch"
In 2019, 8 schools will participate and the Sugar Apple plant is being used as the "Torch"
Participating schools received a brochure on the plant with instructions on how to take care of it. At the end of the activity students will be awarded a certificate for successful nurturing and participation.
The Schools participating this year are:
Laventille Girls Government
Arima Girls RC
Matelot Community College
Mayaro Secondary
Tableland AC
Penal Quinam Government
Siparia KPA
Palmiste Government
This year for the 1st time we have secondary schools taking part in this activity.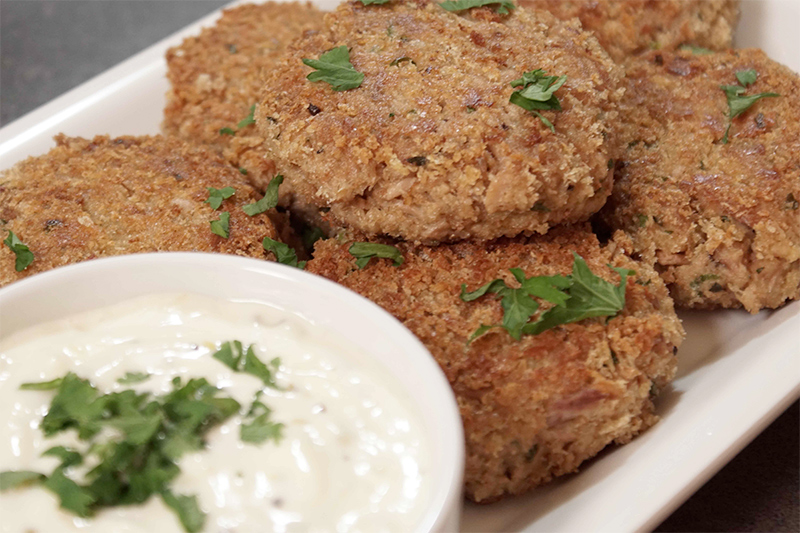 This recipe for Tuna Patties is quick and easy and is a great way to use Cuisine's Tuna Chunks in Water. Not only is this recipe delicious, but it is also infinitely adaptable!
Perfect with rice, pasta, in burger bread or make mini patties for a satisfying appetizer! Cuisine Tuna Chunks in Water is available at all Massy Stores, nationwide.
Yield, 6 patties, 6oz each
Ingredients:
Tuna Patties
3 cans of Cuisine Tuna Chunks in Water, drained
3 eggs
2 cups + 1 cup of bread crumbs (crushed Crix or Panko breadcrumbs can be used)
½ cup of grated cheese (cheddar, parmesan or mozzarella can work)
1 lime, juiced
3 tsp of fresh shadon beni (finely chopped)
3 tsp of fresh chive (finely chopped)
1 tsp of fresh parsley
4 sprigs of fresh thyme
2 tsp garlic powder
2 tsp of black pepper
Salt, to taste
Pepper sauce, to taste
Olive oil/ Vegetable oil for shallow pan-frying
Method:
In a medium sized bowl, add 1 cup of breadcrumbs and season with salt and black pepper. Set aside.
In a large bowl, combine the tuna, eggs, remaining 2 cups of bread crumbs, onions, lime juice, shadon beni, chive, thyme, parsley, garlic powder, Worcestershire sauce, black pepper, pepper sauce and salt.
Work the ingredients together until a firm paste is formed.
Divide the tuna mixture into 6 equal parts and form into patties.
Gently coat the tuna patties in the seasoned bread crumbs.
Heat oil in a frying pan and carefully add the coated patties to the pan.
Fry on each side until golden brown.
Remove from oil and drain on paper towel.
Tartar Sauce
½ cup of mayonnaise
2 tsp of sweet relish
3 tsp of lemon juice
Salt and black pepper (to taste)
Method:
Combine ingredients and serve alongside the tuna patties.
Today (March 15, 2019) Trinidad and Tobago Eco-Divers Club, the only local community to conduct underwater clean up exercises, received a significant contribution of eighty thousand dollar (TT$80,000) from Massy Stores Trinidad.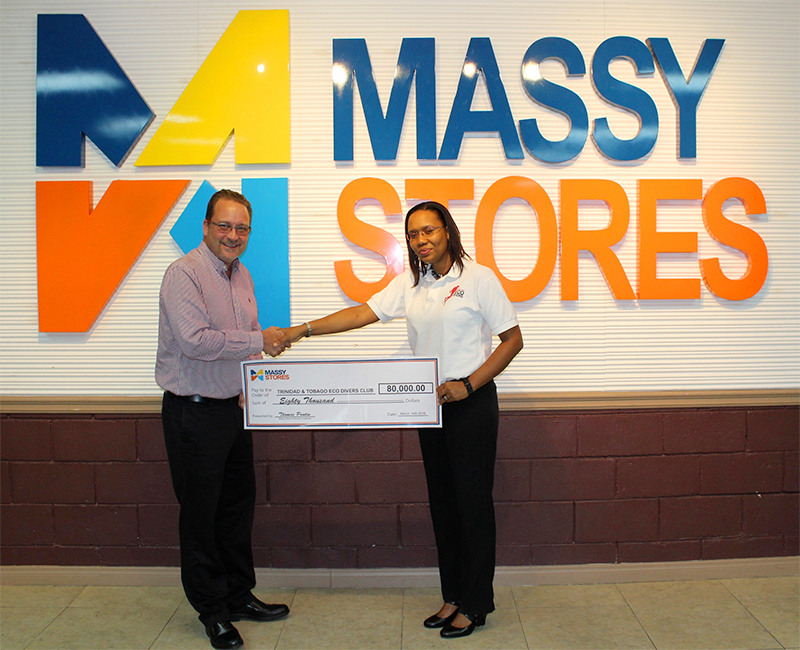 The contribution will be used to acquire airlift bags to remove underwater waste as well as marker buoys and diving equipment to support the club in their clean-up efforts, at the start of the turtle nesting season.
"The turtle population, particularly those who nest along our north west coastlines suffer tremendously as a result of plastic pollution. Hawksbill turtles in particular get disoriented and die in a sea of plastic when they come ashore. Juveniles especially become trapped or injured by plastic and other items. Overall, the marine life in that area of Trinidad and Tobago is under serious threat. At the very least, Massy's donation will help us to remove waste and hopefully safeguard the turtle population in the area," commented Shari Wellington-Griffith, Chairman, Trinidad and Tobago Eco-Divers Club.
"The airlift bags will help us to bring underwater waste, such as plastic waste lodged between rocks, to the surface more efficiently so that we can remove it from the marine environment," she added.
This partnership is the first of many partnerships to come, following Massy Stores' decision in 2018 to reduce the impact of plastic waste by implementing a charge for single-use plastic bags.
Thomas Pantin, Executive Chairman, Massy's Retail Line of Business said "we made a commitment last year to our customers that the proceeds from the sale of plastic bags would be donated to support environmental sustainability. Our philosophy, which will guide how we select groups and projects to support, is to empower communities, such as the community of divers of the T&T Eco Divers Club, in their efforts to remove plastic waste from the environment."
Since the implementation of the charge for plastic bags, Massy Stores Trinidad has experienced a 90% reduction in single-use bags circulated from our stores, nationwide.